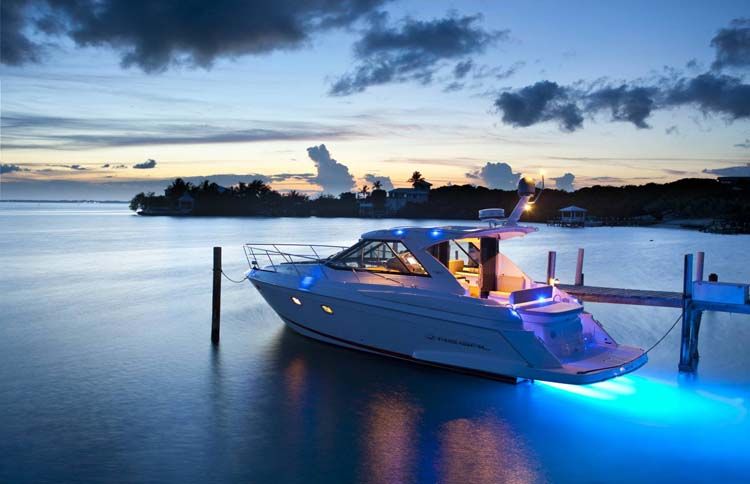 Photo Courtesy of Regal Boats
We always tell you about all about the various
luxury yachts
that are out there, from limited edition models custom-made for affluent clients to huge vessels stretching over 700 feet long. While those are all great to read about and own, sometimes you just want a small water outing with a few friends and family. The speed boats listed below (all with a base price under 500k) allow you to enjoy a day out on the water in ways you couldn't with a larger boat, like hitting cruising speeds of 33 mph and towing various water toys like jet skis. Plus, these more modest designs are much cheaper to fuel than your giant yacht.
Regal 35 Express Cruiser
Regal is pretty good with offering luxury boats at various price points and this 35 Express Cruiser comes in at around $226,211. Meant for entertaining within the cockpit, the cruiser features a "FlexPlan layout with L-shaped seating and single-level cockpit sole or a standard C-shaped forward lounge." We love the bamboo flooring that stretches throughout the cabin and the cherry wood entry steps, which the company promises won't wear down. At 34 feet long, the Express can sleep six and has many different engine options, from a TW 5.7 Gi OX FWC Catalyst with 600 hp and a Duoprop drive to a Twin Merc 350 Mag MPI DTS with 600 hp and a Bravo 3 drive. You can customize nearly everything in this boat and we think you should definitely think about adding the Mid-Cabin LCD TV for only an additional $785 and maybe even the High Performance Stereo Package which comes with an amplifier, sub woofer, and transom remote. The Stereo deal may cost $923 more, but it would certainly make entertaining on your Express Cruiser that much better.
Photo Courtesy of Regal Boats
Chaparral 370 Signature Cruiser
Starting at $339,658, Chaparral's 370 Signature Cruiser has a pretty impressive list of design features, including the neat elevated helm that brings 360 degree visibility. There's even a wet bar in the cockpit that allows you to mix up some pretty tasty drinks while drifting out amongst Caribbean islands. Chaparral promises that this boat is the type that can take you anywhere, while still providing sure handling. While the base model of many boats are stripped pretty bare of extra perks, forcing you to pay extra, this one actually comes with a lot, like an air conditioner/heating system, a sound system, and a 7.3KW generator with a sound shield. Of course, not everything is included in the base price and you can opt to pay extra for stuff like the fiberglass hard top and blue LED underwater lights.
Photo Courtesy of Chaparral
Baja 2013 35 Outlaw
The Baja 2013 35 Outlaw isn't quite out yet, but it definitely looks like it may be worth checking out when on your hunt for a boat under 500k. The company promises that it will deliver impressive speed and an aggressive design that will grab attention. The new boat will apparently have "innovative hydro testing, wind tunnel technology and carbon fiber construction [that will] make drag a thing of the past." The 35 Outlaw will have room for eight people (as long as only three of them actually sleep there), allowing your group of friends to party into the wee hours of the night. Comfort seems to be very important to Baja, who have created a large cabin and head, along with optional air-conditioning, within their new Outlaw. While official images haven't been released yet, the projected designs look sleek and powerful.
Photo Courtesy of Baja
Trophy 2302 Walkaround
At $61,680, this Trophy 2302 Walkaround is much cheaper than the other boats on the list but it's included because you're not going to want to use your 400k luxury yacht for a dirty fishing trip. According to Trophy, this vessel is totally prepared for an "all-out assault on deep-water fisheries, with high freeboard, large-volume deck drainage, a big-water hull and a raft of tournament class angler-empowering features." At 23 feet long, the 2302 Walkaround features drop-down curtains to keep you dry should you choose to fish in rainy conditions, big insulated fishboxes set above the waterline so water can drain, a 25-gallon aerated livewell, and even a roomy cabin with a dinette table for when you want to relax and get out of the sun. Of course, like many others on this list, you can choose to purchase additional features like an extended hardtop for $5,287.
Photo Courtesy of Trophy
Chaparral 264 Xtreme Tow Boat
If you buy yourself your very own luxury boat, your kids may try to borrow it much too often for your liking. Instead of trusting your own vessel in their young hands, think about just getting them their own Chaparral 264 Xtreme Tow Boat for $110,249. According to the company, the 264 Xtreme is able to tow any watersport you need it to, which is bound to please any water-loving teenagers. Featuring power options from 320 to 430hp, this speedboat is around 26 feet long, including the swim platform, and has an 80-gallon fuel capacity. It has a lot of features that come standard with the base model, including a Power Slide transom seat, a nice sound system, and a "custom arch tower with swivel racks and dual infloor storage lockers."
Photo Courtesy of Chaparral
Regal 42 Sport Coupe Yacht
As the most expensive on this list, with a base price of around $449,000, Regal's 42 Sport Coupe is a little over 42 feet long and features different engine options to choose from: Twin Volvo 8.1 Gi Gas IPS 550 Joystick with 800 horsepower, Twin Volvo D4 Diesel IPS 400 Joystick with 600 horsepower, and Twin Volvo D6 Diesel IPS 500 Joystick with 740 horsepower. The hull was designed for the IPS propulsion system, intending to bring fast cruising speeds (around 33 mph) despite the small engine package. The windshield is pretty neat too, considering that it can be opened in the center, allowing you to walk right through it. According to Regal, the Sport Coupe's stateroom has more space than any other vessel in its class, making it a pretty comfortable place to spend a romantic weekend. Regal also offers their customers their Custom Fit Program which includes anything from fabric to paint selections. Of course, after you add that Garmin monitoring system and those underwater lights, the price is certainly going to go up and probably take you well above $500k.
Photo Courtesy of Regal Boats
More Articles on Luxury Speedboats:
Corsair 32 Yacht Cruiser Debuts at Fort Lauderdale Boat Show
Architect Zaha Hadid Designs Limited Edition Speed Boat For Art Dealer
Cigarette Racing Team's New Top Gun and Huntress Speed Boats