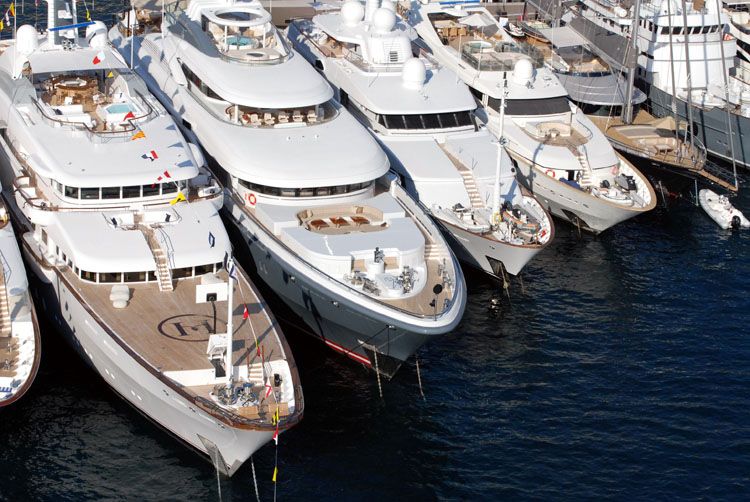 Photo Courtesy of Monaco Yacht Show
The 22nd Monaco Yacht Show wrapped up this past Saturday and was filled with huge vessels that could cause average yachts to sink in shame. Widely considered to be one of the most prestigious events in its class, the event featured a record of six
luxury megayachts
with an average length of 263 feet, according to Astaire Magazine.
The biggest yacht on display at the show was Athena, a 295-foot-long sailing yacht. Athena is one of the world's largest three-mastered schooners and is currently on sale for around $95 million courtesy of the Monaco-based Y.CO. Also of mention is the 290-foot Nirvana, which made its world debut at the Yacht Show and features a 3D cinema, and two vivariums that house a chameleon, water dragons, bearded lizards and turtles.
Large-scale yachts don't seem to be a fading trend, as it was reported that there have been 88 built that are at least 288 feet in length. 19 additional boats are being currently built, including the super secretive
Project Azzam
, which is set to become the world's biggest yacht at 590 feet, beating out the current title-holder Roman Abramovich's 531-foot Eclipse yacht. Planned for delivery in 2013, Azzam is still hiding in Germany's Lurssen yard.
Nowadays megayachts seem to be the epitome of the age-old argument of "Mine's bigger than yours." If you want a yacht that will impress, it has to be longer than any others and you pretty much have to include a helipad, cinema, and gym. It's easy, just think of the perks that come with a mansion and find a way to get those on your boat.