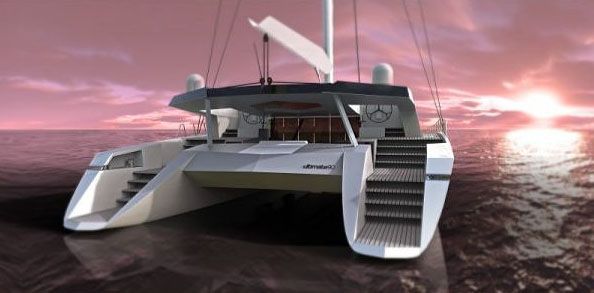 Photo Courtesy of Sunreef Yachts
Specializing in building
luxury catamarans
, Sunreef Yachts has done it yet again with their newest addition to the family. Having just introduced the Sunreef 80 in 2010 and the Sunreef 75 in 2011, the talented designers at Sunreef Yachts proudly present their latest masterpiece, the Sunreef 90 Ultimate, a design that took them over 6 months to finalize.
Made from incredibly light carbon, this high-performance super yacht has a light displacement of only 55 T, and has marine hulls with a reversed bow that allows this magnificent craft to enjoy over 20 knot speeds when sailing, without forgoing safety. To reduce resistance this minimalist vessel is compact as well as eco-friendly, with solar panels on board, and wind and hydro generators that act as a great support for the generator.
Unlike Sunreef's previous luxury yachts, the flybridge of the 90 Ultimate will not be your traditional leisure area, but rather, dedicated solely to sails maneuvering. The flybridge will also be covered entirely in solar panels allowing for a total area of 54m? that generates 6kW of power, and will allow for transparent ceilings in the saloon and master cabin of the yacht.
Guests and skippers alike will certainly enjoy the entire superstructure of this luxurious yacht as it will be made of carbon fiber and glass panels which ensure increased illumination and stellar panoramic views. The internal saloon with galley located in the master cabin will have a stunning view of the sea through the expansive glass wall and sliding doors that also conveniently give access to the private outdoor area. Outside, the private terrace will feature a spa pool, bar and lounge.
The port side hull will feature one double guest cabin with en-suite bathroom while the starboard hull will house two double guest cabins with en-suite bathrooms.
Clients will also enjoy fully customized interior design, allowing them an unlimited range of possibilities with the Sunreef's designer's expertise and guidance, ensuring that this luxury yacht is truly your own.