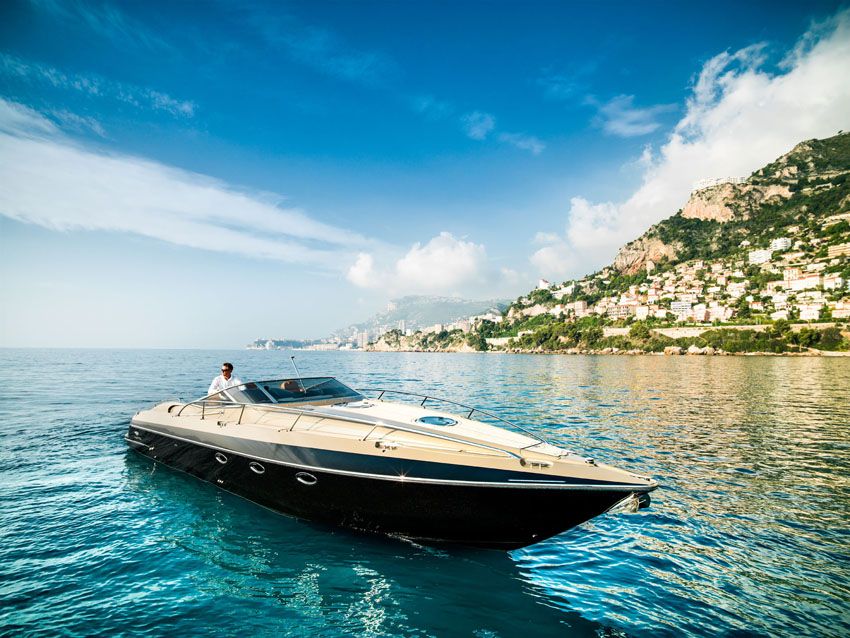 Photos Courtesy of Hunton Powerboats
When a yacht brand refers to itself as the "Aston Martin of the Seas," we take notice. Hampshire, UK-based Hunton Powerboats manufactures made to order powerboats that are packed with bespoke British furniture, teak wood and leather. Founded by offshore powerboat racer Jeff Hunton 30 years ago, the company's design team works with each customer to create the exact boat requested, making sure to reflect the individual's own personal style through custom colors, fabrics and woods.
However, with their latest offering, the XRS43, already looking pretty awesome, we can't imagine wanting to deviate too much in style.
The XRS43 features a race-inspired deep V hull and promises "good head height, a spacious salon, separate heads and shower, a well-appointed galley and a double berth, with teak decking, leather upholstery and bespoke design finished as standard." It also comes with a flat screen TV and DVD player, an integrated sound system with waterproof speakers, and a Tonneau cover. There are also several optional add-ons, like a canopy and a foredeck sun cushion.
In terms of engine, the company will put in whatever you want and gives some options on their site, like twin 662 hp Mercury Racing petrol engines with NXT drives. But, if you want something even better, ask for twin 700 hp SCi supercharged MerCruisers, which may take you up to 75 knots (around 86 mph).
Configure your dream XRS43 on Hunton's site, from the waterline coloring to the type of decking, and once you're done, Hunton will give you a general price quote — you can probably expect it to be at least $587,000.