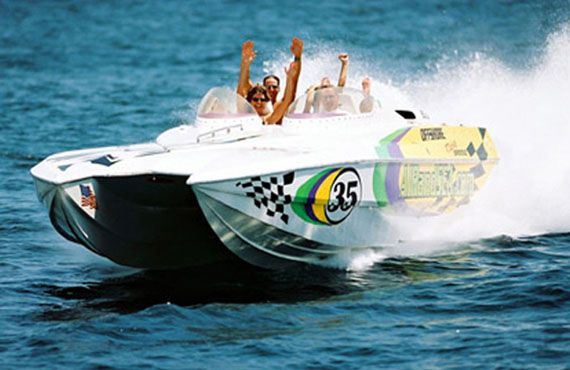 Powerboat Racing:
Any extreme sportsman knows that watching from the sidelines is just not the same as getting behind the wheel. So why not be part of the action and go head-to-head against some of your favorite powerboat racing legends? As more and more competitive powerboat racing events are popping up across the nation, more and more drivers are making their professional debut and being crowned champions in a lavish year-end ceremony.
Participating in competitive powerboat racing is actually much easier than one might think. But before you can even think about competing, you need to learn the basics and put in some actual lap time. Air & Sea Adventures offers some of the best inboard powerboat racing courses throughout Florida. The Offshore Driving Experience puts you behind the wheel of a powerful Super Cat Light Class Racing Boat and teaches you everything you need to know about the extreme sport.
Available courses range from a one-hour Rookie Experience, which is priced from $600 per person, to a three-hour Advanced Program, priced from $1,300 per person. Each high-speed action course is offered in Baca Raton, Ft. Lauderdale, Miami, and Palm Beach.

If you're thinking about participating in competitive powerboat racing, the Offshore Driving Experience is the first step in the right direction. So, forget about cheering from the sidelines because after all, you might just be the next APBA Inboard Racing "Rookie of the Year."


Win a Powerboat Racing Lesson: To celebrate the 2011 Porsche Boxster Spyder, Porsche and JustLuxe have teamed up to bring you three exhilarating adventures. As part of the campaign, Air & Sea Adventures is offering a chance to win a course in inboard powerboat racing, with accommodations provided by the luxurious Four Seasons Palm Beach.