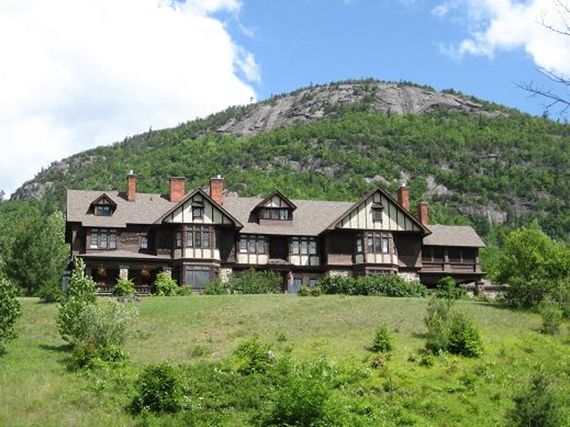 Photo Courtesy of Sotheby's International Realty
For the Estate of the Week, I intend to focus on homes with classic style. They may be new, they may be old, but each contains something special that is worth appreciation and closer study.

Wellscroft is a country home in the town of Upper Jay, New York in the scenic Adirondack Mountains. Upper Jay is part of Jay, a town in Essex County located about 120 miles north of Albany. The town takes its name from John Jay, who was governor of New York when the town was formed in 1798. There is a lot of history in this area and a few beautiful older homes, many of which were built at the turn of the 20th century by wealthy industrialists.


Wellscroft, a Tudor Revival/Arts-and-Crafts-style mansion was built in 1903 at a cost of $500,000 for Jean (Wells) and Wallis Craig Smith (1875-46) of Saginaw, Michigan as a summer home. The home is situated on the side of Ebenezer Mountain with views over the Adirondacks. At the time the home was built it was one of the largest country estates in Essex County. It was lived in by the Smiths for several decades before being sold in 1942. After that it was both a private home and a public lodge but later went through a couple of periods of abandonment before it was rescued and restored.

This home on 15 acres was recently in use as a bed and breakfast inn, offering guests a uniquely tranquil getaway. It has 22 rooms including 14 bedrooms, many with their original fireplaces. There is a separate service wing. The rectangular home has many additional interesting features such as projecting bays, porches, gables and dormers and a large semi-circular projection on the rear facade.

A stone archway bedecked with greenery is an elegant porte cochere. The covered porches with fieldstone columns offer plenty of places to dine alfresco or simply relax in the shade on a sunny day. The porch on the first floor is covered by a second story sleeping porch above. The first story is covered in natural fieldstone with stories above done in a combination of wood shingles and wood with stucco.


Quarried local granite (anorthrosite) was used for door and window lintels and sills on the first floor, porch and terrace steps, and as capstones on porch piers, railings, and on the porte-cochere's battlements and buttresses. This landmark home is featured on both the State and National Register of Historic Places.

This estate has been fully renovated to bring it up to the standards of our modern world while still keeping the magic of its original time period. The older details including leaded glass windows and curved window seats tucked into curving alcoves, are all in place. The home's interior boasts many features traditional in Arts and Crafts design such as windows with geometric details and handcarved wood insets.

The large living room includes casement windows and a brick fireplace with a herringbone tile hearth. There is a tea room off the living room with pickled oak wainscoting and a fireplace. The billiard room includes a three-paneled mural by Lake Placid artist Averil Conwell above the fireplace mantle.

The renovation into a bed and breakfast inn means that the home now has a commercial kitchen and there is also a full bar. The property also has its own gazebo, root cellar, power house, fire house and ice house. Some structures in the original complex were lost to fire and the ruins of a caretaker's residence, children's playhouse, and a carriage house remain. The grounds include pathways, ponds and some of the earlier features of the property such as the stone retaining walls.

Taxes on the property are $16,102 and it is listed with Brian Dominic of Sotheby's International Realty for $1.65 million.