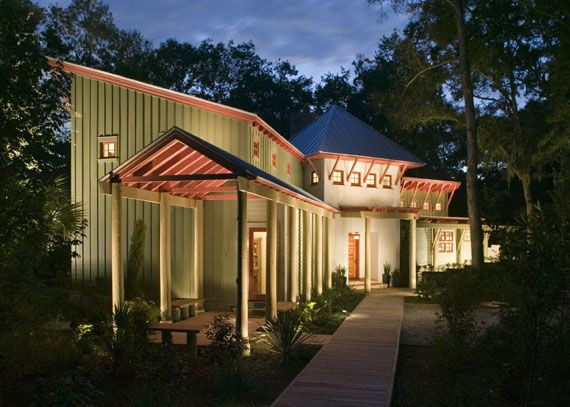 Laidback lowcountry style gets a makeover in this home on Spring Island,
South Carolina.
Spring Island is a 3,000-acre South Carolina lowcountry golf community 25 minutes from Hilton Head and Beaufort and 30 minutes by boat from Port Royal Sound and the Atlantic Ocean.
The community is limited to no more than 410 families on its 3,000 acres with 1,200 acres protected as nature preserve. The area offers
championship golf
, world-class freshwater and saltwater fishing, equestrian, tennis, quail hunting, nature center and fine and casual dining options.
Architect Chris Schmitt of Schmitt Walker Architects designed a compound that includes a main residence, a guest house, woodworking shop, photography dark room and a separate office all on over three acres. The guest house was the first project. It was completed in 1998 and the other buildings followed, culminating with construction of the main residence in 2004.
The award-winning home was designed with an open floor plan with distinctive soaring roofs. The great room in the main house has high ceilings, exposed trusses and large windows to showcase the beauty of this serene location. The kitchen, dining room and den/office all have views of Rice Gate Pond. The home is designed for indoor/outdoor living and most of the rooms have direct access to exterior decks which offer additional 1,000 square feet of outdoor living space.
The ground floor master bedroom leads to a private outdoor spa and there are two additional bedrooms on the second floor. The home combines modern style with some classic notes. Some of the heart pine flooring was milled in Savannah in the 19th century and later became part of a factory building in New York before returning a little closer to home. The property's current owners have used its clean contemporary lines as a fitting foil for their art collection. The master bedroom has a colorful full wall mural pierced at the top by high windows which help flood the room with light.
The structure that started it all, the guest house, has a distinctive inverted roof with floor-to-ceiling windows in the living room revealing views of the surrounding forest. A small kitchen, dining area and two bedrooms and baths make for a tempting space that will invite your guests to linger a while.
The compound is surrounded by lush landscaping created by landscape architect Thomas Angel. This home is listed for $2.15 million with
Spring Island Realty.
Photos Courtesy of Rion Rizzo/Creative Sources Photography
Great Room
Beamed Ceilings
Floor-to-Ceiling Windows
Large Kitchen
Master Bedroom
Entryway