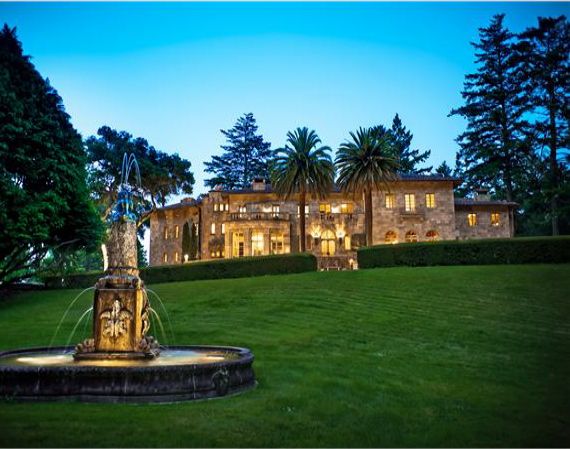 Photo Courtesy of Christie's International Real Estate
Historic Villa Lauriston in Portola Valley California, designed by noted architect George Schastey and commissioned in the 1920s by Herbert E. Law, the noted
San Francisco
businessman and real estate magnate who owned the famed Fairmont Hotel, has been listed for sale via Christie's International Real Estate affiliate Hilton & Hyland for $20 million.
It took more than 100 artisans to create the authentic Florentine villa in Northern California over the course of four years; Schastey was also responsible for the Fairmont's opulent interiors. Situated on more than 28 acres at the end of a long sweeping private lane, the manor rises beyond stands of redwoods, fronted by a deep, broad lawn, carved stone figures, and a formal arrival court, large enough for "a fleet of visiting dignitaries."
With some 30 rooms, including seven bedrooms, eight full baths, and two powder rooms in the main residence, the estate features marble floors, grand arched doorways, columns, handcrafted detailing, ornate fixtures, and an authentic Renaissance palette. Other highlights include an entire room of cherrywood paneling, a living room/concert hall, a formal dining room, reception room, library, sitting room, and reading room.
Located adjacent to 1,000 acres of mid-peninsula open space, the property also boasts manicured terraced lawns, sunken gardens, grassy meadows, a reflecting pool and a tennis court. Visit
ChristiesRealEstate.com
for more information.