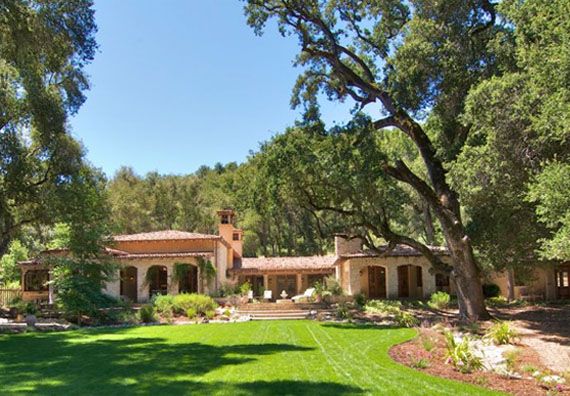 Photo Courtesy of Concierge Auctions
Concierge Auctions will auction off a 13-acre estate in one of the top-golfing communities in
Northern California
in November. The luxurious hacienda, which is located in a private community in the Santa Lucia Preserve, originally listed at $6.75 million may be purchased at less than one-half that amount.
While the auction will take bids on the property from November 12-18, 2011, bidders will be able to purchase the property via a "buy it now" option at $3.295 million. The bidding will begin at $1.995 million. The listing company, Carmel Realty Company, is working with Concierge Auctions to facilitate the sale of the Monterey County property located in Carmel-by-the-Sea, California.  
"The lifestyle offered by Santa Lucia Preserve is unlike any other in the Carmel Valley. With world-class amenities and a scenic, unspoiled setting, residents of Santa Lucia Preserve can either fill their days with endless activities or simple relaxation, while a mere 10-15 minutes from Carmel, Pebble Beach, Monterey and Big Sur, and two hours from San Francisco," said Mitchell Lynch, a listing agent for the property. "Not a detail was missed in the construction of 14 San Clemente Trail. It is one of the most exquisite residences in the [Santa Lucia] Preserve."
The rustic single-family residence, with 7,000 square feet of living space, has five bedrooms and five-plus bathrooms in addition to a living room, a dining room, a library, and an underground wine cellar. There also is a three-car garage and parking available for guests.
The 20,000-acre private reserve contains 18,000 acres that are permanently reserved for wildlife habitat. The private community, which consists of 300 residences, has an 18-hole Tom Fazio-designed championship golf course, more than 100 miles of hiking and riding trails, a 500-acre private ranch club, and an elaborate sports center.
"This Santa Lucia Preserve is a timeless piece of land punctuated by ridge tops, creeks, redwood and pine forests, oak woodlands and rolling grasslands – an ideal place for someone who loves the outdoors – and equally valuable is the lifestyle rendered by its friendly residents, annual traditions and endless activities," said Laura Brady, VP of marketing for Concierge Auctions.
"No expense was spared in the construction of 14 San Clemente Trail. Paired with the unrivaled amenities of the [Santa Lucia] Preserve, the chance to own this timeless estate for your bid price is a rare and special opportunity." Bids for 14 San Clemente Trail will be accepted November 12-18 at SantaLuciaAuction.com. For more information, visit
ConciergeAuctions.com
.