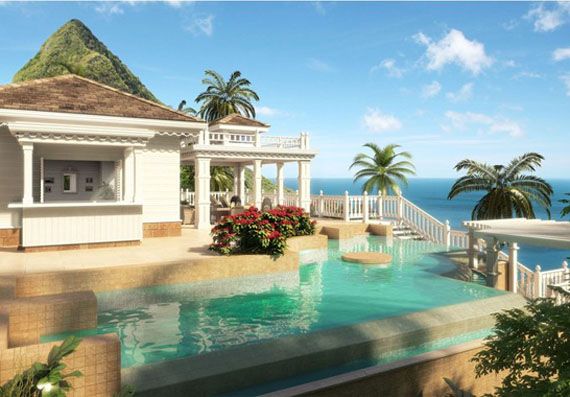 Photo Courtesy of Sugar Beach & Carrie Coolidge
Second home buyers in search of a tropical paradise in the Caribbean, need to look no further than The Residences at Sugar Beach on the Southwest coast of St. Lucia.

Also known as Jalousie Plantation (until 2012), Sugar Beach is an award-winning 130-acre resort in a one-of-a-kind location. It is now offering a collection of 42 exclusive private homes with three to six bedrooms priced from $2.4 million to $9 million. At nearly half of the cost of comparable luxury real estate on other islands, such as Barbados, Sugar Beach is a five-star opportunity that is worth consideration.


Nestled in a pristine bay between the Piton mountains, Sugar Beach is a UNESCO World Heritage Site that offers a level of opulence and services not often found in the Caribbean — or anywhere else in the world for that matter. Situated on the site of an 18th-century sugar mill, the property was designed by world-renowned Caribbean architect, Lane Pettigrew Associates.

Roger Myers, 64, founder and chairman of Jalousie, Ltd., who owns and is developing the property, initially came to St. Lucia with his wife Lee to enjoy a well-deserved retirement. A world-renowned restaurateur, Myers was a co-founder and chairman of the Pelican Group which owned such restaurant chains as Café Rouge, Dome and Mama Amalfi. After selling Pelican Group to Whitbread, he launched Punch Taverns PLC, which operated more than 6,000 licensed premises throughout the United Kingdom.

In 2005, Myers was savoring a quiet life in a home he bought on the north end of St. Lucia when he learned that Jalousie was on the market. "As soon as I heard it was for sale, I jumped at the chance to invest in the property," Myers told JustLuxe in an exclusive interview. "It was a dilapidated hotel in the most beautiful spot. I knew that if I didn't do something with it right then, I would never get another opportunity like this again." Myers purchased the property with a local partner, who he bought out three years later.


It wasn't just the incredible aesthetic of the island that attracted Myers to it. "The people make a big difference there, too," he says. "Most of the Caribbean islands are beautiful, but it is the warmth and the friendliness of the St. Lucians that really make it a special place."

It turned out that Myers' status as a visionary isn't limited to the food and beverage industry — he has earned the same respect in the hotel and property development business as well. In 2010, a London-based consortium, headed by British property developer Anthony Lyons, made a substantial investment in the development of Sugar Beach.

Although developing and renovating Sugar Beach required a sizeable investment of more than $100 million, the resort has since been recognized with countless awards, including first place at the 2010 Conde Nast Traveler Awards (UK) for "Favorite Overseas Americas and Caribbean Hotel" and "Top 10 Resort in the Caribbean" from the Conde Nast Traveler's 2011 Readers' Choice Awards. Accolades given to the Residences at Sugar Beach includes the "Best Property" worldwide award from the International Property Awards.


Another smart move made by Myers was his selection of Lane Pettigrew as chief architect. Pettigrew, who was the original architect of Jalousie Plantation in the early 1990s and who lives on the island, turned out to be ideal for the redevelopment. "Out of all the projects that I have worked on, Sugar Beach is without a doubt my favorite project," says Pettigrew, an award-winning architect who has designed more than sixty diverse luxury homes and resorts in over twenty Caribbean countries since 1985.

"My architectural approach is a reactionary style to the environment in which it finds itself," says Pettigrew. "One of the things about great architecture is that it takes wholesomeness of the environment in which it sits in. The most important thing is the use of local materials, local craftsman, local engineering and technology and the use of local knowledge."

For the Residences at Sugar Beach, Pettigrew used a classic colonial Caribbean style of design, similar to the traditional homes found in St. Lucia. Each residence has spectacular views of the Caribbean Sea and is equipped with its own private swimming pool and spacious terraces. The most exclusive of the homes offered are located on Glenconner Beach, where five beachfront homes that range from 6,000 square feet to 7,750 square feet in size with five and six bedrooms are set only steps from the beach. Homeowners will have the opportunity to work with Pettigrew to customize the interior layouts to best meet their needs.


Sugar Beach homeowners will have access to all the facilities offered by the resort, including three gourmet restaurants, four bars, tennis and fitness facilities and a scuba center. The full-service spa is especially impressive, as it is located in a series of tree houses hidden discretely within a dense, tropical rainforest setting. The spa was entirely built by hand in St. Lucian style by local Rastafarian craftsmen using traditional techniques.


Complete with thatched roofs made from natural, locally grown grass, the tree houses mirror native Arawak Indian huts common a millennia ago. After the rebranding is completed in 2012, the resort will be managed by the Los Angeles, California-based Viceroy Hotel Group.

Homeowners will be charged a monthly maintenance fee of $1.20 per internal square foot per month, which covers the cost of maintenance for all common areas (as well as external areas for each residence), landscaping services, trash collection, pool cleaning and access to a 24-hour butler service. Housekeeping services and property rental management are also available.


Homeowners will benefit from a 15-year holiday granted by the St. Lucian government on income tax at Sugar Beach and a 50% waiver on annual property tax for five years, which commenced in April 2009. Currently, there is no VAT, capital gains, death duties, inheritance or estate taxes in St. Lucia.

It is not too surprising that many of the residences sold to date have been to guests of the resort. "I believe that the mark of successful architecture is when the people who come leave happier than when they arrived," says Pettigrew. "The sheer number of hotel guests who have chosen to buy here speaks volumes."

And having the distinction of being a World Heritage Site doesn't hurt, either, according to Pettigrew. "After all, how many people can say they own a home in a World Heritage Site?" he says. "Long term I think it will guarantee that the few owners who are lucky enough to own homes here will always have an asset that will only appreciate." For more information about the ResidencesSugarBeach.com, contact its sales office at (758) 285-4181.
Sugar Beach
A home at Sugar Beach
Carrie Coolidge
View of a beach at Sugar Beach
Carrie Coolidge
View of sunset at Sugar Beach
Carrie Coolidge
Resort pool at Sugar Beach
Carrie Coolidge
View of beach at Sugar Beach
Carrie Coolidge
Water sports at Sugar Beach