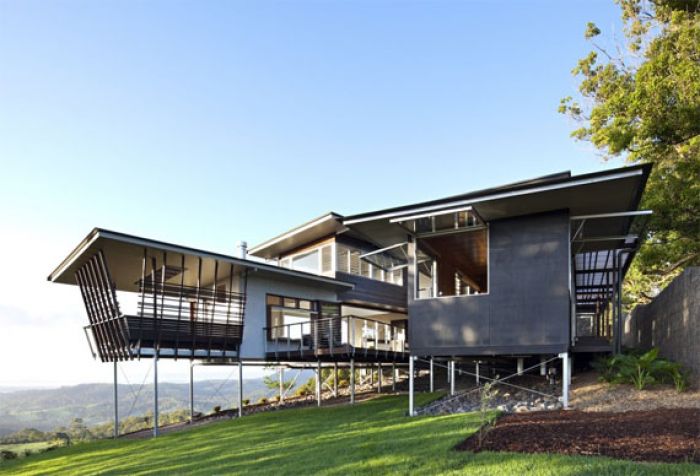 Photo Courtesy of Bark Design Architects
Bark Design Architects seek "to define the line between inside and out; to negotiate the relationship between the internal and external environment; to contain, protect, house." This is clearly what they have done at "Glass House Mountain House," a newly finished project in Maleny,
Australia
.
The house is as much a celebration of "inside" as it is about its gorgeous location, perched on the edge of the remnant rim of the Glass House range. With a combination of rock and glass materials, the Maleny House is at once grounded and ethereal. This duality is evident throughout the home, which has ambiguous indoor/outdoor spaces and even rooms, with glass walls being present to divide not only interior from the exterior, but also rooms within. These are features consistent with the Japanese concept of wabi sabi which finds beauty in flaws and inevitable wear and tear of objects.
In addition to focusing on the natural landscape, the materials used in the project reflect a commitment to the environment as well, with sustainable efforts including natural cooling and lighting from the blowing breezes and warm sunshine, locally sourced hardwood, recycled timber floors, local quarry rock, and native garden species.
The house results in a functional work of art, which allows not only stunning views of the surrounding area, but is also seen as art in its sleek modern lines, careful craftsmanship and impressive attention to detail that creates an inviting atmosphere. By having so many open spaces and green materials and acknowledgements, Bark has assured that the Maleny House becomes a part of its environment, as much as a part of the lives of those who dwell within the breathtaking structure. Learn more at
BarkDesign.com.au
.