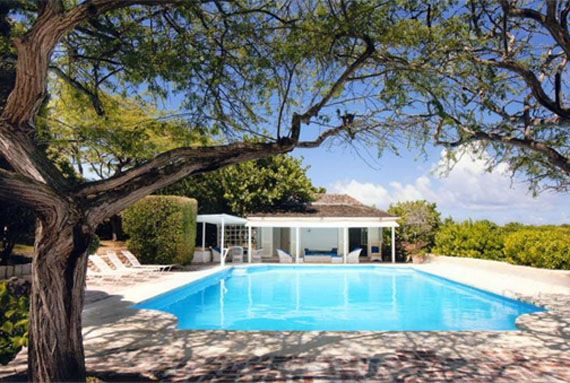 Photo Courtesy of Christie's International Real Estate
Rachel "Bunny" Lowe Lambert Lloyd Mellon, the 101-year-old widow of philanthropist, art collector, thoroughbred racehorse owner/breeder and banking heir Paul Mellon, has listed her 27-acre estate at Antigua's exclusive Mill Reef Club for $14.5 million via Christie's International
Real Estate
. One of the Caribbean's most prestigious properties, the estate has served as a retreat of "relaxed sophistication" for the Mellon family and close friends for the last six decades.
The property consists of a main residence, three-bedroom guest house, staff house, music house, and several outbuildings. The design is a fusion of British Colonial style and mid-century modernism as interpreted by architect Robertson Ward who developed Mill Reef in the wake of World War II. The epitome of WASPy good taste and understated elegance, the estate is as valuable as an icon of preppy style as it is a piece of prime real estate.
The property's main entrance opens onto lush manicured gardens. A stately double staircase overlooking a courtyard and reflecting pool greet visitors at the main residence. The great room is the main entertaining space complete with an enormous terrace looking out onto Half Moon Bay. A library with views of the reflecting pool and a dining room with a terrace opening into an orchid nursery are other key features along with the lavish double master suite overlooks Half Moon Bay and the flower gardens.
The estate also features a wine cellar opening onto a seating area with access to the pool and the garden, a sizable swimming pool, a poolhouse including changing rooms and a kitchen, two greenhouses, vegetable gardens, and a citrus orchard. The expansive grounds slope toward the water, affording direct access to one of the most secluded and stunning beaches in the Caribbean. Visit
ChristiesRealEstate.com
to learn more about this property.