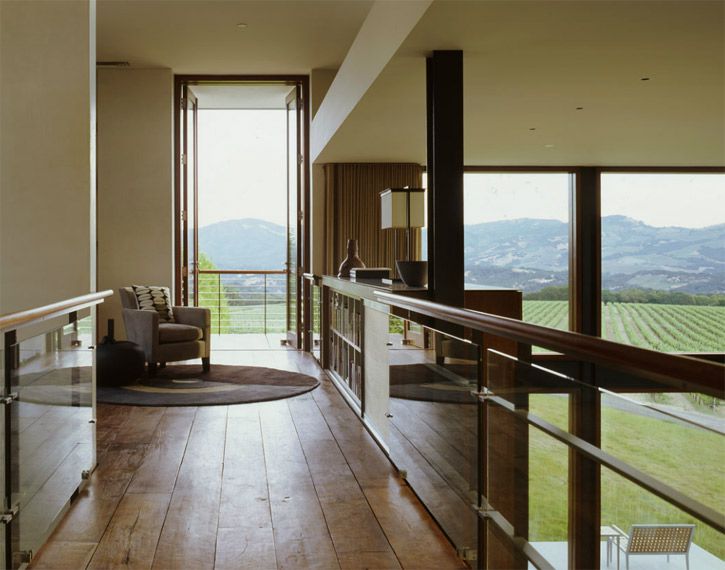 Photo Courtesy of Aidlin Darling Design
Joshua Aidlin and David Darling are the partners behind Aidlin Darling Design, renowned for their
luxury accommodations
. The gorgeous Vineyard Estate won the company the 2008 Chairmanís Award from the International Interior Design Association as well at the 2007 Merit Award from the American Society of Landscape Architects, among other honors. The beautiful 14,000 square foot home is located in Sonoma, California on 140 acres of land. The estate includes the main home, as well as a caretakerís residence, barn, irrigation center, water storage, as well as sculpture gardens and an orchard.
According to Aidlin and Darling, ďIn each project, we seek to uncover an inherent spirit of place and interpret constraints as catalysts for performative design. The individual character of each project emerges through poetic spatial relationships, material richness, and exacting detail.Ē The Vineyard Estate proves just that, showcasing some of the
best home accessories
which incorporate the natural elements of the homeís surrounding environment: unfinished wood, stone, and glass. Natural light is allowed to flow freely through the house, while multiple level flooring as well as glass walled rooms and walkways offer unobstructed views of the lush vineyard property.
In addition to architecture, the firm also focuses on
interior design
, creating artistic uniformity between both the outside and inside of their projects. This principle is displayed to a high degree throughout the Vineyard Estate with the incorporation of clean-lined furniture and nature-inspired accents. When describing their vision, the company states, ďAidlin Darling Design bridges the demands of artistic endeavor, environmental responsibility, functional pragmatics, and financial considerations. As a multidisciplinary firm, we believe that innovations discovered through the process of design and construction can be applied to projects of any scale, use, or purpose.Ē
The group is also responsible for the design of famed Bar Agricole in San Francisco, which won the company the 2012 Citation Award for Interior Design by the American Institute of Architects.
To see the group's full portfolio and list of awards visit
AidlinDarlingDesign.com
.