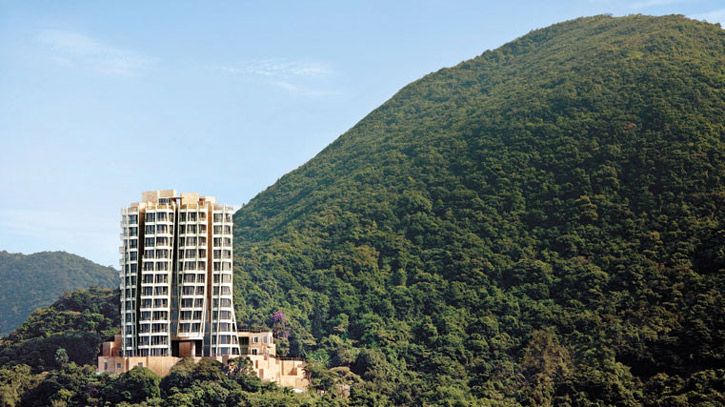 Photo Courtesy of OPUS HONG KONG
Frank Gehry, the world renowned, Pritzker Award winning architect has astonished the masses for years with his iconic designs. He has once again amazed us with his technical ability in
modern design
with his first residential project in Asia, dubbed OPUS HONG KONG. This remarkable high-end residential building was unveiled last week by the innovative Hong Kong developer Swire Properties.
OPUS HONG KONG sits in the hillside of the Peak, an ideal location to take in unobstructed views of the heart of the Hong Kong's financial district and the lush landscape surrounding the area. According to Gehry, the picturesque scenery is where he drew his inspiration. He explains, "The building kind of designed itself because of the beautiful site. You could almost just put a platform with glass around it as the views from inside are spectacular."
OPUS HONG KONG contains 12 luxury apartments in total, between 6,000 to 6,900 square feet, taking up an entire floor each. The first two floors consist of two double-level garden apartments with private swimming pools. The twisting columns create a sense of energy and movement rendering each floor unique. "I wanted to make something incredibly beautiful that people will respect and love for generations," Gehry informs.
Most of the rooms contain floor-to-ceiling glass windows that lead out onto a series of 'boat deck' balconies that take advantage of the panoramic views of the city. "I designed the building for Hong Kong, to respond to the unique conditions of the city. You wouldn't build this anywhere else," Gehry said. Residents can expect to enjoy more light then a classic home design and unprecedented vistas. The sky terrace features a rooftop oasis and three swimming pools that are fashioned to embody the building's organic figure.
This shaped 12-story luxury high rise will only see tenants of extreme affluence. "We haven't set a price yet, but it is fair to assume it to be the highest in Hong Kong - record breaking," states Swire Properties Chief Executive Martin Cubbon. Potential buyers with assets less than HK$5 billion ($64 million U.S.) are being discouraged from even looking at these units, as they are rumored to be going for HK$80,000 ($10,000 U.S.) per square foot. Visit
OpusHongKong.com
to learn more.