JustLuxe View Profile

Editorial Staff
Howard Estate | Luxury Mountain Home Up For Auction
Jun. 27th, 2012 | Comments 2 | Make a Comment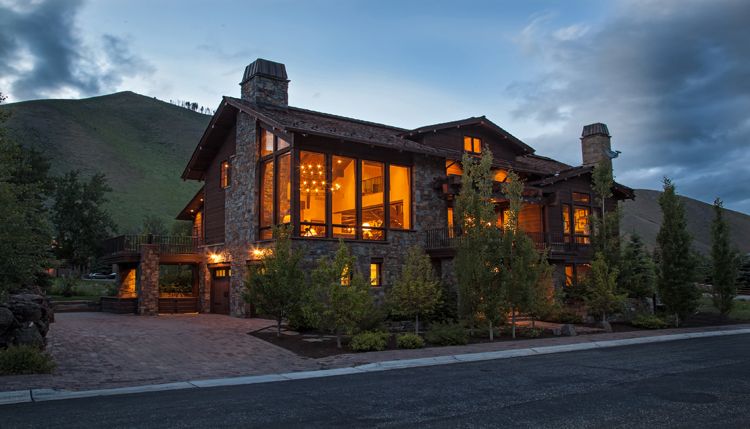 Photo Courtesy of Concierge Auctions
Have you ever wanted your very own
luxury ski resort
just steps away from the chair lift? Now may be your chance. The 5,900-sqaure-foot Howard Estate is ready to be auctioned off by Concierge Auctions and Sun Valley Sotheby's International Realty on July 19, 2012. Set at the base of Bald Mountain's slopes, the large
luxury home
is in Sun Valley, Idaho, one of the world's more popular ski destinations. With no minimum bid required, the tri-level home was originally listed for $5.995 million and offers people the chance to own their dream home or vacation resort.

Built in 2008 on 106 Howard Drive, the estate was designed by Point Architects and the interior was styled by Megan Edwards of Charles Stuhlberg Interiors. Nestled in front of a mountain view, the house features five bedrooms and six full (and one half) bathrooms, a large kitchen, a living room with full floor-to-ceiling windows, and a gas log stone fireplace. For film lovers, the estate also has a media room with a theatre screen. Of course, with the prime skiing location, it also has a ski storage/mud room and a hot tub to warm up in after a long day on the slopes.
"In addition to its great design and luxurious finishes, this home is one of the closest to Bald Mountain ski access. The layout is configured to accommodate two separate families - perfect for entertaining friends or use as a vacation rental," says Katherine Schroder of Sun Valley Sotheby's International Reality.

Bald Mountain is set in Sun Valley, where over 100 inches of snow annually falls. The mountain, affectionately called Baldy by some, has 3,400 feet of vertical drop and 2,000 acres open to explore. The variety and open space makes it popular amongst skiers and snowboarders around the world. With over 60 runs available, the mountain is in an area great for more than just skiing. Sun Valley has a lot of space for guided snowshoe, cross-country tours, hikes through the available five ranges, horseback riding, mountain biking, and even kayaking in the many lakes and rivers nearby.
If these pictures aren't enough, beginning on June 24 the home will be open daily, by appointment only, from one to four p.m. for anyone wanting to see it in person.
For more information visit Web.ConciergeAuctions.com
You might like :
Best Luxury Homes