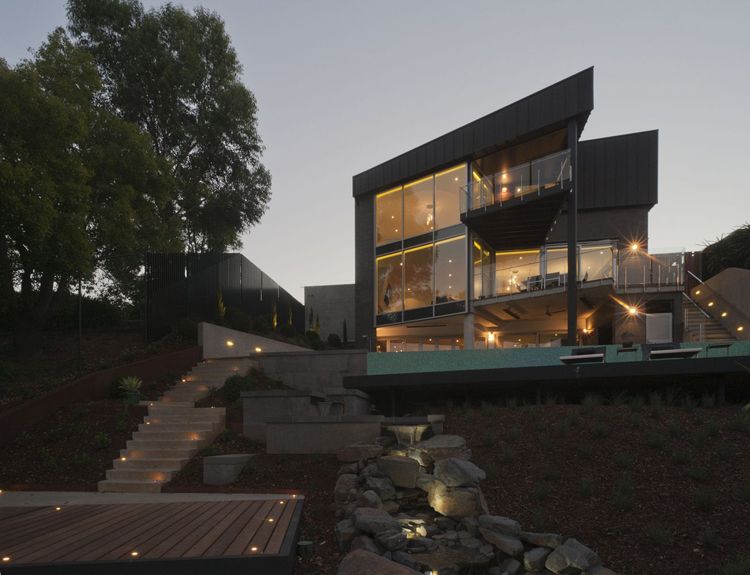 Photo Courtesy of Grant Maggs Architects
Based out of Victoria, Australia, Grant Maggs Architects Pty Ltd prides themselves on continually delivering
luxury real estate
designs that go beyond architectural trends. They prefer to focus on the particular needs of their clients, the site location, and the project itself, ensuring a thoughtfully crafted home that will maintain lasting value. The Maribyrnong House in Melbourne is definitely an example of the firm's talents, showcasing the mixture of a stunning location, an open-minded client, and very generous budget.
The house was designed to be low maintenance with the use of quality, durable materials, such as zinc, bluestone, recycled timber, off-form concrete, polished concrete, and stainless steel. Depending on your vantage point, the structure has a very different look to it. When looking from the street, one sees a two-story, zinc and masonry home that is fairly modest in extravagances. From the side of the nearby river though, one will see the zinc abandoned for spacious balconies and terraces, which give the homeowner great views from all levels of their hilltop manor.
With stones leading down the hill to the tennis court, away from the pool and glass walls, the backside of the home is surprisingly warm and inviting for something crafted from so much stone. Made up of high windows that reach the ceiling, incredibly strong angles that illicit the best features of futuristic architecture, and generous living spaces, Maribyrnong is a must-see masterpiece for any fan of modern homes.
Featuring a spacious living room and kitchen, as well as an open-concept layout that offers flexibility, the house would be great for any growing family, which is exactly what the clients wanted. The infinity pool and large deck outside also help make the luxury property perfect for summer shindigs.
For more information visit
GrantMaggs.com.au