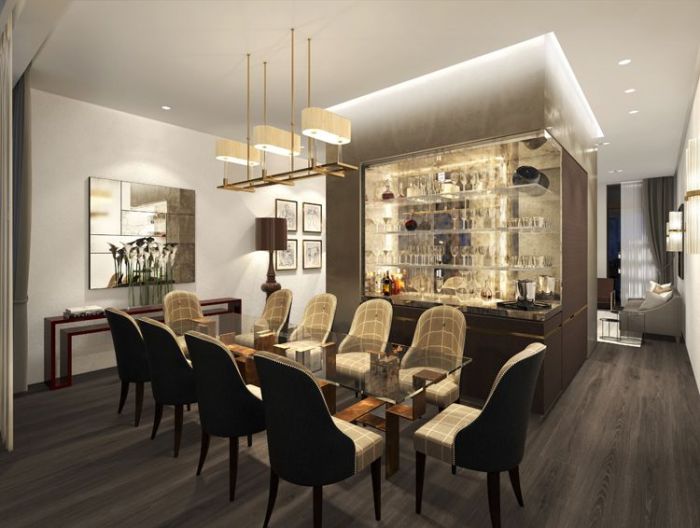 Photo Courtesy of Morpheus
Morpheus is one of Europe's leading
luxury real estate
developers, building properties that are ahead of the trends and reflect the company's interest in innovation and creativity. Set in London, the company has supllied more than 50 residential developments in sought-after locations, like Knightsbridge and Kensington, each an example of elegance and sophistication. More recently, Morpheus has added the Chelsea Townhouses (the Anderson House, the Beau House, and the Chapman House) to their project manifesto.
Established in the early 1990's, Morpheus (no relation to "The Matrix") promises to keep up with "evolving attitudes to luxury, increasing demands on time and personal space, and the growing expectations of its clients." They always approach their projects with a clean slate, never carrying used design ideas over from one home to the next, in order to ensure unique looks across the board.
The three new townhouses are in the heart of Chelsea and borrow their names after well known British figures: Savile Row tailors Anderson and Sheppard, the trendsetter of men's fashion Beau Brummell, and the sophisticated founder of Lotus Cars Colin Chapman. The residence's will be available this summer and are sure to offer their owners a chic, modern lifestyle.
"The Chelsea Townhouses are a rare find: three unique spacious new build properties that deliver classic design and detailing to the highest quality," says Andrew Murray, Chairman of Morpheus. "A bastion of British craftsmanship, these residences are iconic yet subtle; opulent yet understated. We are delighted to have already enjoyed a high level of interest in all three properties."
Beau House is made up of four en-suite bedrooms, including a large master suite, and off-street parking to keep your car from getting dinged. It comes full furnished upon move-in date and has 4,348-square-feet of inside living space. According to Morpheus, the home is "a contemporary interpretation of a traditional pied-?-terre: a classically 'tailored' property with a number of bespoke commissioned pieces by leading British craftsman." Aside from the bedrooms, one can find a personal cinema with a wine wall and lovely red accents, a stone fireplace, and a bar.
Anderson and Chapman House don't come fully furnished, instead giving the new owners a blank canvas to customize their
home décor
in whatever ways they see fit. They each have four bedrooms within though, offer off-street parking, and are just as large (Anderson falling in at 4,225-square feet and Chapman at 4,340). A perk to the Anderson House is the roof terrace, which would be great for entertaining guests or just relaxing.
Morpheus also offers each townhouse a year's worth of Residence Management service, "overseeing the complete planning and management of the property and providing a full range of bespoke lifestyle services, leaving residents to enjoy their magnificent surroundings."
The location of the townhouses is great for anyone wanting to living in the middle of a bustling village atmosphere. Set among some of London's most famous landmarks (the Victoria and Albert Museum, Royal Albert Hall, and Hyde Park), the homes are close to many different bars, restaurants, and shopping opportunities in Chelsea, Pond Place.
In keeping with sustainable luxury, Morpheus promises to incorporate their commitment to sustainability within their designs. Many of their past structures have featured "geothermal boreholes, solar panels, bio diverse roofing, green walls, and water recycling."
The homes are being handled by Savills and Beauchamp Estates.
For more information and price inquiries visit
MorpheusLondon.com
.