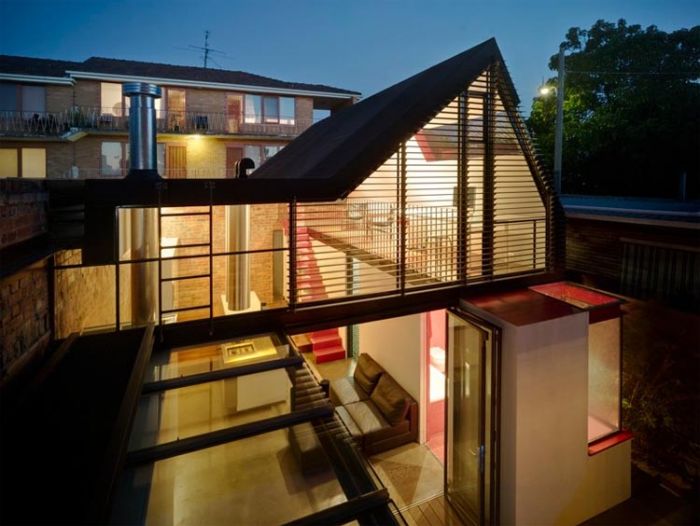 Photo Courtesy of Andrew Maynard Architects
Many architects are choosing to work off of preexisting structures, creating a completely new sought-after
real estate
lot. Maynard Architects, a firm based in Sydney, Australia, took an old Victorian home in Melbourne and transformed it into a modern, open-air home with a geometric flair called the Vader House.
Andrew Maynard, the company's namesake, has a Bachelor degree in Environmental Design and in Architecture. He began Maynard Architects with the intention to create a business that makes bold projects featuring socio-political concepts while integrating large concepts within small spaces. His work has been recognized and rewarded by various institutions, including the ADC Young Guns in New York, an exhibit that awards young international designers under 30. In 2010 Andrew's recognition hit a new height when he was named Best Young Architect at Treehugger's Best of Green awards in the United States. Since the company's inception, Mark Austin (director and architect) and Michael Ong (Architect) have been added to the burgeoning architectural firm.
The Vader House takes its name from the helmeted villain we all love and is reflected in the home's peaked black roof. As an extension to a Victorian terrace, the structure makes good use of the high brick walls already present. The boundary walls, according to the firm, were built before the current height regulations were set. "The roofline then abruptly turns to follow the dictated set-back lines, resulting in a playful and telling interpretation of planning rules."
We love that the center of the house is actually an outdoor courtyard, with glass doors leading inside to the necessary rooms like the kitchen and bedroom. Choosing to place the focus of the home outside is an ingenious way to subvert the dark confinement of the old structure. The brick wall is kept intact throughout the home, barring the old soul of the previous structure and bringing in some of the grittiness of the outside city. The firm also used many materials, like glass, to bring more breathing room and light inside. They brought in glazed bi-fold doors so that one can essentially peel back the doors, creating room and nearly eliminating any barriers between the outside and inside.
Even though the space is very small (with a width of almost 25 feet), the Vader House features a spa tub outside that can be hidden by a sliding deck. When open, the deck merely slides over without taking any walking space away. We also really love what they did with the bathroom. While the massive glass window appears to be taking privacy away, the owner can flip a switch and the glass is turned opaque.
For more information visit
MaynardArchitects.com
.