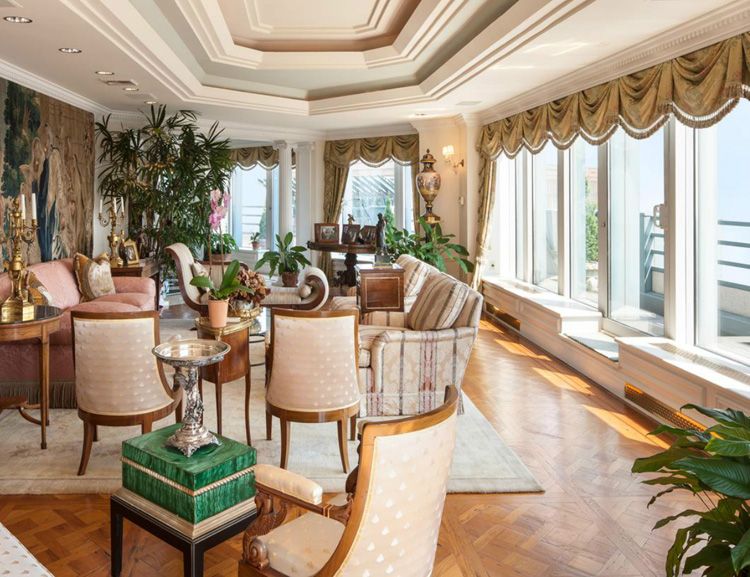 Photo Courtesy of Elliman Real Estate
New York is full of
luxury real estate
, from country homes a short drive away to spacious apartments in the center of the bustling city. However, if you've ever wanted to boast living in the most expensive apartment in America, you now can for only $100 million! The exclusive wrap-around penthouse occupies three floors high over New York City on W. 56th Street, with terraces overlooking Midtown and Central Park. With 11,000 square feet, six bedrooms, 9 bathrooms, and a classic aristocratic interior design, this apartment is definitely one to see.
The exclusive listing is being handled by Raphael De Niro, son of famous actor Robert De Niro, and sits atop the top floors of the famous City Spire condominium. The country's priciest apartment, according to Douglas Elliman Real Estate, was designed by Juan Pablo Molyneux, a member of Architectural Digest's AD100. The space is the highest terraced apartment in the city and with its circular configuration, it gives 360 degree views, which is definitely the best feature of the penthouse apartment. Each floor of the residence has a wraparound terrace that makes up 3,000 of the overall 11,000 square feet, which gives a bird's eye view of Manhattan, rivers, bridges, and of course, Central Park. The view alone is definitely worth the steep price tag.
The home's entrance is on the 73rd floor, where there is a formal foyer reflecting the
best home furnishings
and décor you can find. It features inlaid marble floors, columns, large closets, and a powder room. The rest of the landing has a chestnut floor with a Versailles pattern, crown moldings, and coffered ceilings. There's also a living room, eat-in chef's kitchen with a butler's pantry, a media room, dining room that can seat over 20, and two extra powder rooms.
You can either take the private elevator to the 74th floor or use the mahogany railed staircase, but once there you'll find three guest bedrooms with en suite bathrooms, a formal gallery, conference room, and a private study with an en suite bathroom. The 75th floor is completely made up of the grand master suite. The best part of this floor, we think anyway, is the beautiful bathroom designed using hunter green marble, mahogany finishes and bronze fixtures. There's a double sink vanity and a deep soaking tub, as well as a steam shower large enough for two people.
While the penthouse spans three floors, there's actually a separate guest or staff apartment on the 72nd floor, which is accessible by a service entrance and has a kitchenette and an en suite bathroom. There's also a wine cellar on this floor, with plenty of room for any collection.
The entire home has Crestron and Lutron systems, giving high-end security and light-dimming capabilities, as well as integrated speakers, and lots of storage space. We love that the apartment gets so much light from the wraparound windows but sometimes we'd probably want to block that light out, especially if we didn't want to wake with the sun. Thankfully, the home as electronically time-controlled shades so you can sleep in as late as you want.
For more information visit
Elliman.com
.