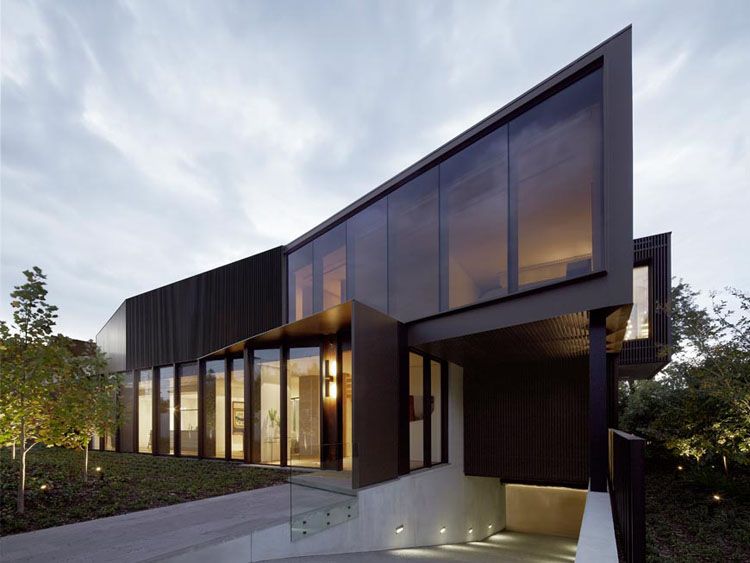 Photo Courtesy of Inarc Architects
Inarc Architects is a mid-sized firm out of Melbourne, Australia, and reflects some pretty well-crafted design aesthetics within their
luxury real estate
offerings. The company has been around for around 17 years and have worked on all different types of buildings, from single-residential homes to exhibition design. While we love all of their structures, their unique family homes are definitely our favorite, especially the Shrouded House in Toorak, Melbourne.
The Shrouded House was apparently made for a young family of four in the Toorak neighborhood, which is one of Melbourne's most sought-after areas. When looking at their designs, the contemporary homes lend a very warm atmosphere, which can be unusual within modern structures that utilize many glass and metal elements. In the Shrouded House, they do this, in part, by selecting warm interior furnishings and choosing to design the home wider than it is tall. The sprawling nature limits the possible imposing feeling one can have when standing at the bottom of a huge building.
"A tightly planned building of great complexity and a variety of spatial experiences. This residential project rejects the contrasts requirements of a family home coupled with the demand for an engaging abstract sculptural form. The bronze external battens are tempered by a rich internal palette of sandstone and oak linings," Inarc says.
The 9,150 square foot home has a total of 13 rooms, including a basement and a poolside patio. It must gets it's "shrouded" name from the huge mirrored structured piece on the exterior, which stunningly reflects the sky. It's definitely the aspect that first drew us in. Along with the mirrors are transparent glass, bronze and steel, all working to reflect the environment and giving it that contemporary edge.
Even though quite large, through the use of reflective surfaces, the home gives off a smaller appearance and seems to integrate in nicely with the surroundings. The interesting layout and segmentation of the home also works towards the large structure appearing smaller in size.
For more information visit
Inarc.com.au
.