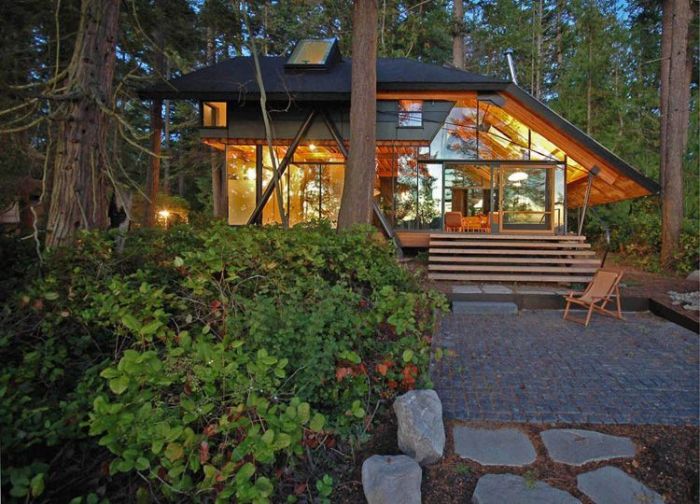 Photo Courtesy of Zeroplus Architects
Balancing aesthetics and functionality, Zeroplus Architects are known for their innovative thinking and designs that challenge traditional architecture. The Sneeoosh cabin is no exception, and is an example of how architecture doesn't have to disrupt the environment to be ground-breaking.
Set in the Puget Sound region of Washington State, along the water's edge of Deception Pass, the striking Sneeoosh Cabin is shaded by mature Douglas fir and cedar trees. A retreat from modern urban life, this glass-enclosed cabin has great views of the surrounding forest, waters, and Olympic mountains in the distance.
In order to create a cabin that was symbiotic with its environment, the architects made sure that the nature in the area remained as undisturbed as possible. The foundation of the Sneeoosh Cabin is made up of eight concrete disks, raising the house off the ground leaving the wildlife untouched and allowing the plants to remain active. To maintain this minimalist foundation, the cabin itself was made using as little weight as possible. This was accomplished by constructing a roof made from structurally insulated panels (SIP) that consist of an insulating layer of polystyrene foam between two layers of oriented strand board.
The architects came up with a set of design strategies that took cues from the efficiency of natural systems, particularly light. The eco-friendly cabin features large windowed walls and doors that allow natural light in, saving on electricity costs.
Puget Sound lies in an area of temperate marine climate, and with temperatures taking a drastic drop from day to night (the daytime temperature is at least 15?F degrees warmer than the nighttime low) the cabin was split into two temperature zones to ensure comfort for its inhabitants. For the warmer days, the glass-walled section is perfect for natural heat, while the sleeping zone is turned inward and heavily insulated to keep warmth in.
With its minimally disruptive construction and innovative structural design, Sneeoosh Cabin not only preserves the forested environment but is also a positive step forward in successful sustainable living.
For more information visit
0-Plus.com
.