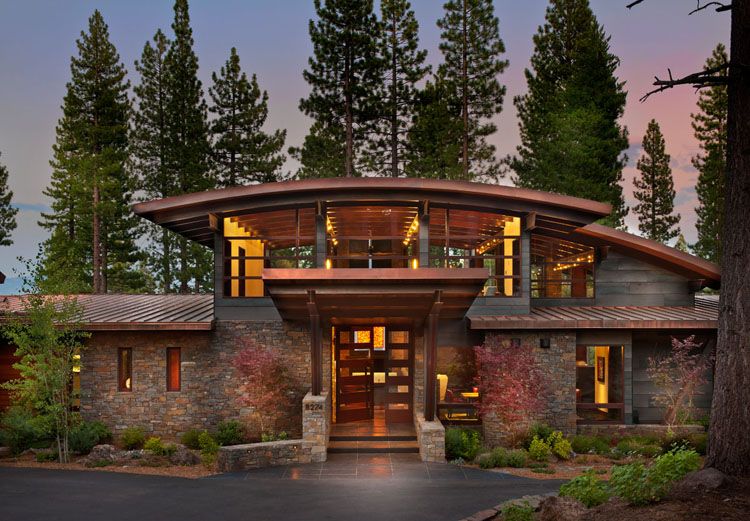 Photo Courtesy of Martis Camp
This contemporary modern retreat is located in North Lake Tahoe at Martis Camp. The single-family residence, which lists at $11.85 million, is the premium property of the luxury-vacation community. It has four bedrooms and five full bathrooms in its 7,188 square feet of living space. There is an office in a loft, a media room, a steam room, and a three-car garage as well. The property also has more than 2,800 square feet of outdoor living space.
The Martis Camp in North Lake Tahoe has become one of the country's top vacation communities. The community reported sales of more than $90 million in 2011 and announced projected sales to exceed $100 million for 2012.
The private vacation club sets on 2,177 acres of prime property. There is an array of natural and manmade amenities that both lovers of the great outdoors and luxury lifestyle purists are sure to find appealing. The neighborhood's Family Barn complex features a summer swimming area, a bowling alley, an art loft, a movie theater, an outdoor performance stage, and an amphitheater. The Family Barn also has an indoor basketball court and a soda fountain.
Members of the luxury vacation community also have direct access to snow skiing and an 8,000-square-foot private ski lodge. Additional amenities include an 18-hole Tom Fazio-designed golf course, an 18-hole putting park, a camp lodge with several dining venues, a fitness center, and a spa. There are numerous trails for hiking, biking, cross-country skiing, and snowshoeing.
For more information on the Martis Camp, visit MartisCamp.com.