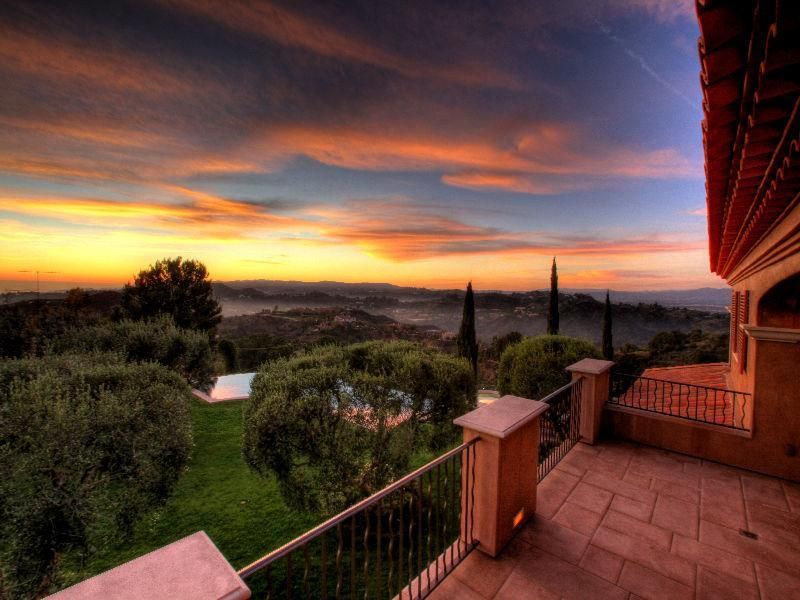 Photo Courtesy of Sotheby's International Realty
So many rumors are flying around considering Kim Kardashian and Kanye West, like whether or not they're planning a $20 million wedding. The rumors of wedding bells are mainly in part due to the fact that Kardashian apparently sold her Beverly Hills home under a pocket listing and the reported stories of Kanye putting his LA mansion on the market. If the two stars really are selling their homes at the same time, it probably means that they are planning on moving in together and if that's the case, we have a few
luxury real estate
possibilities they should check out.
1435 Tanager Way, Los Angeles
More often than not, celebrities buy homes lived in by other celebrities, and since this LA home is being sold by Megan Mullally and Nick Offerman, we're pretty sure it's a contender. Listed at $12.6 million, it features three bedrooms, three and a half baths, and covers 3,803 square feet. In terms of size, it's pretty modest, which could be a good thing if Kardashian and Kanye want a cozy den of privacy. Designed by Ames Ingham, the house has appeared in
Elle Décor
.
"The house has a contemporary design, but with enough girly touches to keep Kim happy. It is completely walled and is located on a quiet cul-de-sac, ensuring privacy for the couple," says real estate company Redfin. Apparently the neighborhood is a pretty good one considering famous neighbors include Leonardo DiCaprio, Matthew Perry, and Jennifer Aniston.
Photo Courtesy of Redfin

The Ritz-Carlton Residences at LA Live, Los Angeles
If the power couple want to live central to downtown Los Angeles, The The Ritz-Carlton Residences at LA Live, #51F to be exact, may be just for them. The towering building is in the L.A. LIVE community, which houses the NOKIA Theatre, Grammy Museum, and 20 restaurants. Listed for $9.3 million, they'd be living in a five-star accommodations that take care of their every need, including offering pretty great views of the city. With three bedrooms and 3.5 baths, this home spans 5,862 square feet and can be found on the 51st floor, which is pretty good considering there are 54 stories total.
"Where else can you walk out your door and walk into the greatest offerings in sports and entertainment; be pampered with the highest level of service and quality; all in the most exciting and energetic locale in Los Angeles? The Ritz-Carlton Residences at L.A. LIVE has everything a rockstar, a mogul or any other discriminating world citizen could want," says Billy Rose, President and founder of real estate brokerage The Agency.
Photo Courtesy of The Agency

10664 Bellagio Road, Holmby Hills, Los Angeles
If Kanye and Kardashian want something more flashy, like an elegant mansion that sits on 1.5 acres, the 20,000-square-foot home in Holmby Hills would be perfect. Listed for $34.5 million, the residence is certainly expensive but considering Forbes reported Kardashian's earnings at $18 million last year and Kanye's at $35 million, we think they can probably make it work.
"The home may be a little flashy for Kanye's taste, but he'll be able to hold auditions for his next music video in the dance studio and store his car collection in the subterranean garage. Kim will love pampering herself in the resort-like spa and exercise room, and entertaining guests at the poolside interior cabana/game room," says real estate company Redfin.
Photo Courtesy of Redfin

2576 Bowmont Drive, Beverly Hills
If they're looking for refuge from paparazzi, this Mediterranean-style home in the gated Bowmont Estates Community seems like a perfect fit. With an open floorplan that connects the indoors with the outdoors, this house takes full advantage of the amazing canyon views that open up around it. Listed for $13.7 million, it features five bedrooms, seven full baths, and two half-baths, and has 7,344 of interior square footage, which is sure to be helpful when the entire Kardashian family comes for a visit.
"The living and dining room open up to a breathtaking 180-degree scenic view, overlooking lush foliage and an infinity pool. This luxurious manor is perfect for entertaining or a personal retreat," says Sotheby's Realty.
Regardless of which luxury real estate option the couple chooses, if they buy one at all, the final selection is sure to be beautiful. With Kardashian's penchant for glamour and Kanye's flashy persona, we're predicting that wherever it is, the house will be hard to miss.
Photo Courtesy of Sotheby's International Realty