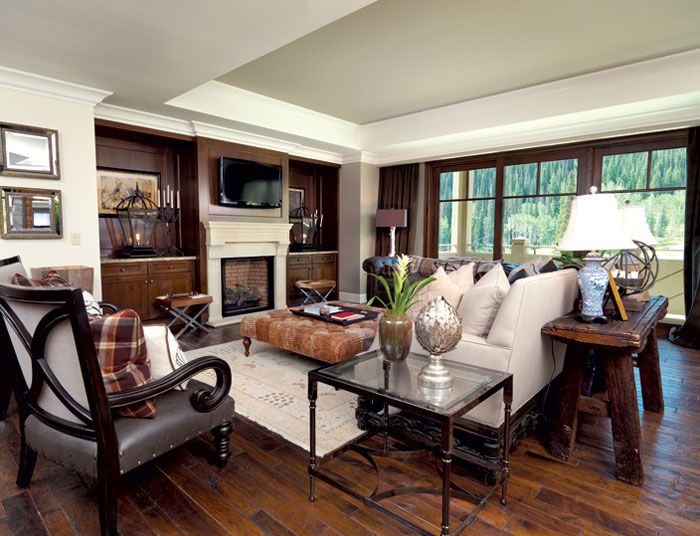 Photo Courtesy of Montage Residences
This holiday season, instead of placing yourself in an awkward (and confined) situation with overbearing in-laws, why not cozy up with Montage Residences and the newest addition to their Designer Model
luxury homes
family: Alder & Tweed?
The Designer Model partnership allows local and national interior designers the opportunity to create stylish and unique homes that beautifully showcase the outstanding features that Montage Residences homes have to offer.
Focused on creating luxury furniture and home outfitting for vacation home destinations, Alder & Tweed are dedicated to combining your own personal style with the majesty of country living. Their award-winning designs and services have given them the expertise to completely outfit any home away from home. With their diligent focus on utility and detail, Alder & Tweed are capable of creating a luxurious vacation destination stocked with all the desired amenities, all the while enhancing the beauty of your second home.
With clean lines revealing elegant décor and twinges of rustic flare, this luxury ski escape is far from your wacky aunt's time-share that you borrow from time-to-time. As is the case with any proper holiday home, this luxury suite features distressed wood details throughout – from the floor to the trimmings – giving it that desired "homey" feel. This spectacular 2,683 square-foot condominium has three stunning bedrooms (including a four-bed bunkroom) and four bathrooms allowing enough space for the whole family – and then some.
Mountain living takes a fresh new direction with the contemporary design of Alder & Tweed and their assortment of colors, prints and accessories that give added warmth to the Montage Residences homes. With a view of the sparkling alpine pool and hot tubs, this home is equipped with exceptional furnishing and decoration that allow for an elegant and enchanting experience.
Listing price for this deluxe home is $4,290,000.