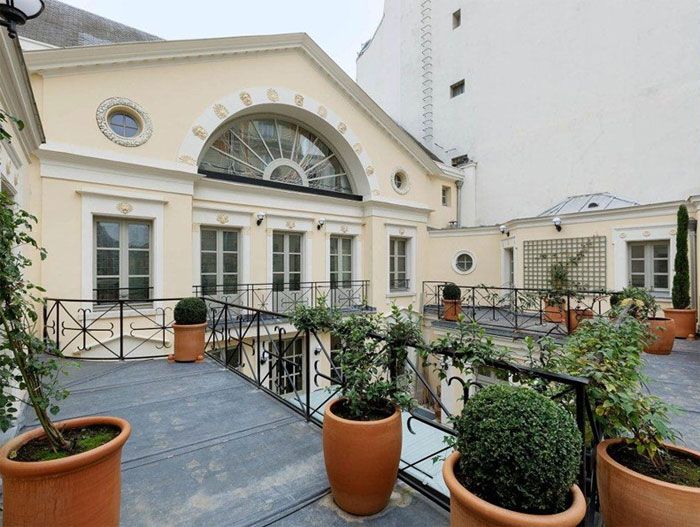 Photo Courtesy of Daniel Féau
French actor and filmmaker Gérard Depardieu certainly has no problem enjoying the joie de vivre, and this is ever-apparent by his luxurious Parisian villa that looks as if it should be reserved for blue bloods only. This Golden Globe-winning and Oscar-nominated Frenchman recently listed his massive 19th-century Parisian
luxury home
on the market for a cool $65 million.
Why, you ask would anyone ever give up such a coveted piece of real estate? Well, according to the rumor mill, the sale is believed to be due to Socialist French President Francois Hollande's 75 percent top tax rate that is set to take effect in France next year. Since the news went public, the wealthy 64-year old actor has allegedly decided to set up tent in a tiny town of Néchin in Belgium.
This sleepy town is just about 800 yards over the French-Belgian border – a relocation that just barley avoids the French tax. A slew of other high-earning French residents have also crossed the border, including the man who is allegedly France's richest, Bernard Arnault, chief of the luxury goods and fashion giant LVMH and worth an estimated $41 billion. Arnault is said to be currently seeking Belgian citizenship.
The practically Parisian palace Depardieu is leaving behind boasts 20,000-square-feet of space and consists of 20 elegant rooms, 10 of which are bedrooms. Comprised of two separate structures, Depardieu's pad has its own private park in the heart of Paris – an unmatched amount of space for this busy city. On one side of this private garden is the Hôtel de Chambon, the historic area of the house which was built in 1820 and named after the Baron de Chambon. Originally acquired and set to be an office space for his film production company along with a few apartments for loved ones, at some point during the renovation Depardieu decided that he would convert it into a luxury boutique hotel scheduled to open in 2013.
On the other side of the private garden is Depardieu's primary living quarters. Equipped with a spacious, loft-like main room that contains living, dining and cooking areas there are also at least two bedrooms all featuring contemporary design and décor. And the pi?ce de résistance? A private indoor swimming pool in the basement covered with a mosaic of beautiful tiles.
So if you're in the market for a stunning multi-level home in the heart of one of the most romantic cities in the world, then this French abode may have your name written all over it. That is, as long as you don't mind shelling out the $65 million.