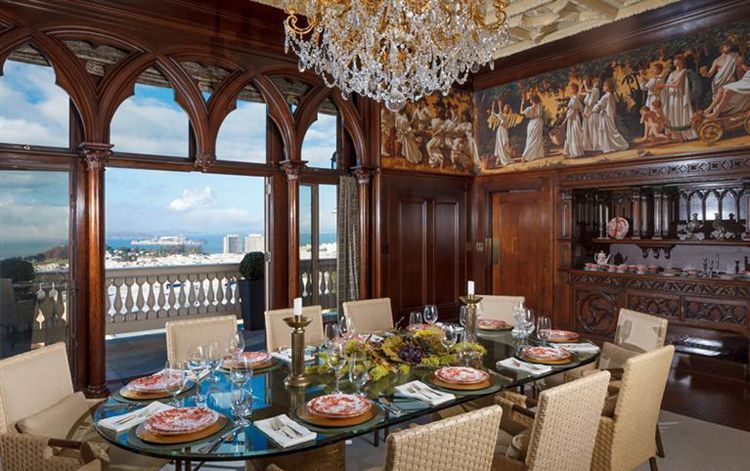 Photo Courtesy of Movoto Real Estate
If you're familiar with San Francisco and
luxury real estate
, you may already know of the Hellman Mansion, which is one of the city's most historical homes. Built in 1902, Hellman Mansion reflects Neoclassical architecture and has been restored to blend modernity with timeless style. While many may think of mansions as sprawling halls filled with cold furnishings that provide zero comfort, this one actually seems to exude a comfortable warmth which is helped by the fantastic restoration. Now that the home is on the market for $14.9 million, here's your chance to snatch it up for yourself.
Found at 2020 Jackson St., Hellman Mansion was built by Issias Hellman, who was the President of Wells Fargo Bank, and was designed by Julias Kraft, according to
Homes of the Rich
. Hellman reportedly had the residence built as a wedding gift to his daughter. The home was also used as temporary headquarters for Wells Fargo after San Francisco's great 7.9 earthquake and subsequent fires in 1906, which devastated the city and resulted in thousands of deaths. The home was also a Decorator Showcase location in 1991 and 2012.
At 11,500 square feet, this home has seven bedrooms and 7.5 bathrooms, with a double curved staircase that leads to the four levels. Within the home one can find entertainment rooms, large outdoor terraces, main and catering kitchens, seven fireplaces, a south-facing master suite with a sitting/dressing room and two master bathrooms, a family room, au-pair suite, and a wine cellar. The location also gives owners landmark views of Alcatraz and Angel Island.
We love the mural that is hand painted on the ceiling of the reception hall, as well as the paneled formal dining room, not to mention the woodwork and windows throughout the home. The only drawback of the home that we can see is the carpet that runs up the grand staircase, which can easily be removed.