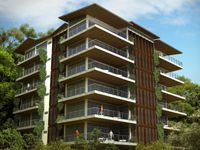 Luxury Vacation Homes:
Punta Leona, Costa Rica, is more than an exotic destination rich with indigenous fauna and floral; year-round tropical weather; and long stretches of white-sand beaches and turquoise waters. It is a state of mind that rests somewhere between idyllic and blissful. The area is a very desirable destination known by savvy travelers worldwide. Imagine owning a vacation home with a cornucopia of luxurious amenities in a secluded community with towering waterfalls, jungle as far as the eye can see, and three inviting beaches. Welcome to Costa Rica's Tranquilo.
If you know the way to San Jose, Costa Rica, that is, Punta Leona is not too far away. It is southwest of the nation's most popular city and capital. There is a new highway under construction that will connect the two cities. Punta Leona is made up of the last remaining rainforests of the southwest and the dry forests of the northwest of Costa Rica. Owners will be transported by helicopter or private shuttle to and fro. All-inclusive concierge service also will be available.
What makes Tranquilo so attractive to many visitors is that approximately 90 percent of the land surrounding the luxury-latent 15-acre gated community is undeveloped. Visitors are just as likely to encounter macaws and monkeys as they are to spot vacationing A-list celebrities and VIPs of all walks.
Tranquilo presents a panacea of enjoyable recreation within the confines of the private community. For those who like to adventure along with the ever-present tranquility, there is a zip-line tour of the jungle that runs from canopy to canopy along with plentiful biking and hiking trails. Additionally, a scenically rich butterfly farm and three Blue Flag-rated beaches along the Nicoya Gulf fill out the onsite activities swimmingly. One of the beaches on the premises is the only Four-Star designated beach of Costa Rica.
Other amenities include housekeeping services, a spa, a fitness center, meditation decks, and a community center for adults and children. There also will be a lounge, a bar, and, upon request, a private chef for in-home meals.
One-quarter share memberships of deeded residential properties with floor-to-ceiling windows are being sold with floor plans on residences ranging from 750-square foot studios to 4,500-square foot penthouses. Unlike a timeshare, owners have full autonomy over their property, including renting it through Tranquilo's innovative rental-management program.
The developers of Tranquilo are making every effort to ensure that the development is as ecologically correct as it is stunningly attractive with its usage of sustainable materials. Even the paper used for marketing purposes is recyclable.
One-quarter ownership shares of Tranquilo begin at $70,000. For more information, visit
www.TranquiloLife.com
.
For LxM James Rothaar