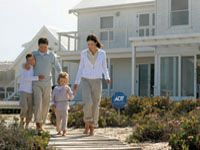 Home Protection Services:
It all begins at home. Having a safe and secure household is both a want and a need that is as vital to maintaining a good quality of life as being able to eat when you are hungry. There is nothing more important than protecting a family's safety. ADT designs integrated security solutions around its customers' specific needs. A dependable security system is a priceless asset in time of need. A flood, a fire, or an immediate need for medical attention can escalate to a life-threatening situation if a reliable security system is not in place. It is that important when you think about it for a moment.
ADT prides itself in being the best of the best when it comes to customer service, as ADT security advisors still make house calls. A security advisor personally visits the residence of a prospective client and provides a customized analysis that leads to the recommendation of an all-encompassing integrated system to protect the members and the belongings. There are circumstances that require special measures to protect valuables or collectibles, such as jewelry, wine collections, artwork, clothing, home furnishings, home-entertainment equipment, and like items. That is why the analysis of the security advisor is so detailed.
Consumers Digest, a highly valued consumer-friendly publication,
recognized ADT as a provider of top-rated home security systems in 2007, naming the customized-home services provider a recipient of its "Best Buy in Home Security" award. Consumers Digest defines a "CD Best Buy" as a product that offers the most value for a given amount of money.
ADT utilizes the most sophisticated applications and technology available, such as the state-of-the art SecurityLink® system. SecurityLink® is a two-way voice communications system, whereby a customer speaks directly with a staff member who is-at the same time-speaking with and dispatching the authorities to the scene. This is a service that could make a difference when it matters most. Other customized home services include video surveillance, strategic lighting, and flood and fire sensors. The video-surveillance system can be accessed in real time onsite or remotely.
Visit ADT's Learning Center
The Learning Center on ADT's Web site is a sight for information-seeking eyes in search of valuable insight on numerous security and safety issues. There is a very helpful security system demo video as well a section with various safety tips and another with detail-rich articles.
ADT services commercial and residential clients with customized security solutions. Commercial accounts range from small to medium large businesses as well as many points in between.
Strike it rich and discover why ADT is the gold standard in home security. Sign up for a free home-security evaluation by an ADT security advisor and enter to win a spectacular spa vacation too!
ADT - The Gold Standard in Home Security
ADT Monitoring Center
ADT Remote Home Monitoring System
ADT iCenter
ADT - The Gold Standard in Home Security
ADT SafewatchEZ
ADT Gold Standard
ADT - The Gold Standard in Home Security