JustLuxe View Profile

Editorial Staff
Featured Celebrity Homes
Jul. 17th, 2009 | Comments 0 | Make a Comment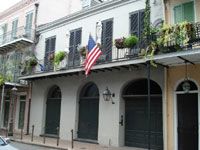 Luxury Real Estate:
From ranches in southern California to private historical estates in Wiltshire, from mansions in Miami Beach to a privately owned island in the British Isles, this list of celebrity homes outdo each other, one after the next! View this article as a
slideshow
.
Brad Pitt & Angelina Jolie
After filming The Curious Case of Benjamin Button and helping to rebuild part of the city, the Lower Ninth Ward, after the devastation of Hurricane Katrina, it is no wonder that Brad Pitt and partner Angelina Jolie decided to settle their ever-increasing family in New Orleans. In 2007, the celebrity couple purchased an early 1830s masonry manor for $3.5 million in cash. The elegant home in the city's most famous neighborhood is said to include grand spiral staircase, elevator, gourmet kitchen, a large private courtyard and a separate two-story guest house as well as private parking for two cars.
Nicolas Cage
Movie star Nicolas Cage had this swanky Bel Air, CA home on the market earlier this year, but sources say it is no longer available. The house has a celebrity history and was once owned by Dean Martin of the Rat Pack. The ornately decorated estate boasts 7 bedrooms, 9 bathrooms in 11,000 square feet, including a curving staircase. The English-style estate sits one acre complete with a pool and pristine gardens. The house is described as being "fit for a king," making it perfect for Elvis' biggest fan.

Spelling Manor

Of all the lavishness in Los Angeles, none is more extravagant or notorious than "The Manor" owned by the Spelling family. Aaron Spelling's widow Candy recently put the palatial French-style chateau home on the market for $150 million, making it the most expensive house on the market in the US. The 56,500-square-foot house sits on nearly 5 acres and so many rooms that the owners are said to have never found them all. Some of the extra special features of the extraordinary home include: a bowling alley, wine cellar, wine tasting room, gift-wrapping room, a humidity-controlled silver storage room, gym, screening room, beauty salon, tennis court, waterfall, pool, spa, reflection pool, pool house with a kitchen. Not to mention 16 car ports and parking for 100 cars.

George Clooney

American actor George Clooney's famous property lies on Italy's Lake Como. The elegant and antique "Villa Oleandra" set the Ocean's actor back $6 million. Since his purchase of the Italian villa, George has hosted his celebrity pals including Brad Pitt, Matt Damon, Catherine Zeta-Jones and Michael Douglas in the 18th century property, which boasts 15 bedrooms. Rumor has it, a special room is set aside for homemade pizza nights which occur on Thursdays.

Richard Branson

The eccentric head of all things Virgin, Richard Branson has become a celebrity in his own right. His ownership of Necker Island in the Caribbean has hosted guests including the late Princess Diana. The home includes the Great House, five Balinese villas, a spa and a beach pavilion. Each multii-leveled open floor-plan house includes balconies and astonishing ocean views and access to a pool. For a price, visitors to the private home can enjoy amenities on the premises like: a barbeque, whirlpools, lighted tennis court and access to three beaches. Also experience spa and massage, Jacuzzis, babysitting, and tennis.

Suzanne Somers

While many celebrities own beachfront property, Suzanne Somers makes her home in the desert in celebrity hotspot Palm Springs. Set on 65 acres, the small house has been added on to and expanded over the years since its purchase in 1977. The eclectic French Country style boasts an update pool, guesthouses and an amphitheater. Seems that the former star of Three's Company has been as affected by the real estate market as the rest of us, with the price of the house being offered at 50% less than it's original asking price.

Michael Jackson

One of the most famous celebrity homes is the late Michael Jackson's Neverland Ranch. Located in Central California, just outside of Santa Barbara, Neverland Ranch is every child's fantasy, with its own train and train station. Although it has been empty, the rooms were once filled with life-sized toys, including a large array of Star Wars memorbillia, elaborate costumes from performances and videos, and an astounding collection of music and movie history. Not to mention a custom Rolls Royce limo. With wood beams, spiraling staircases, lofts and fountains, Neverland Ranch is a fantasy come true.

Shaquille O'Neal

Where extravagance meets class, the larger-than-life home of none other than Shaquille O'Neal boasts a mere 8 bedrooms, a garage for your six favorite vehicles, a pool, a tennis court, as well as an indoor gym. Situated along the water in Miami Beach, FL, this 2+ acre abode went on the market in January 2009 for the bargain price of $25 million. Take note that no mansion is complete without up-lit guardian statues and entrance hotel canopy with neon sign...

Madonna & Guy Richie

When the Material Girl does something, she does it right. So when she married British director Guy Ritchie and decided to live on the other side of the Atlantic, one of the first things she did was get herself a proper English estate. She chose Ashcombe House in Wiltshire. The Georgina style house is set on 1,134 acres and was originally built in 1686. The couple added a swimming pool and large security gates after they purchased the house in 2001, the first time it had been on the market since World War I. Since the divorce, Guy will own the former farmhouse and has plans to create a sporting lake on the property.

For JustLuxe Carly Zinderman
Finding the best in luxury can be a daunting task, which is why we've taken it on for you.
LET'S CONNECT LUXURY NEWS & MORE