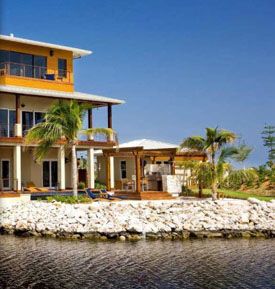 Luxury Real Estate:
The possibilities are endless at the DeckHouses. This is an extraordinary luxury-lifestyle community in the Grand Cayman that is comprised of 19 exclusive single-family residences in an enclave that features a private peninsula and a championship golf course. Residents of this swanky tropical paradise enjoy a five-star amenities package directly from the neighboring Ritz-Carlton resorts, the community's property managers.
Each house offers 7,000 square feet of living space on three floors with a second-level entrance. The 19 deckhouses are positioned perfectly to take full advantage of a private 100-foot waterfront. There also is a private boathouse and a lift on these five-bedroom and four-plus bathrooms Caribbean-styled dwellings.
This is only the beginning of this Ritz-Carlton endeavor, as a new country club and an expansion to the golf course are planned.