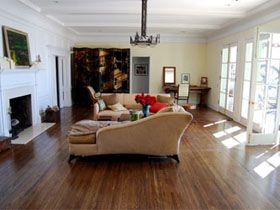 Celebrity Real Estate:
Tom Hanks recently purchased a 14,500-square-foot mansion in Pacific Palisades for $26 million. It is the largest transaction for a single-family residence in Los Angeles County in 2010, as reported by Newsboy.
The "$2 Billion Box Office Man," who entered our lives as a man masquerading as a woman on TV sitcom Bosom Buddies to Forest Gump to astronaut Jim Lovell in Apollo 13 to the Da Vinci Code to the exec producer of the HBO series Big Love, bought the Pacific Palisades domain from another A-list Hollywood couple, Frank Marshall and Kathleen Kennedy.
The single-family residence designed by Gwathmey Siegel and Associates was built in 1996 for the Marshalls. Pacific Palisades is among the most affluent communities worldwide. It has been used as a backdrop and as a location for numerous films and TV shows.

A drop in the bucket: T. Hanks (for the memories!) has appeared in 19 films that grossed more than $100 million.