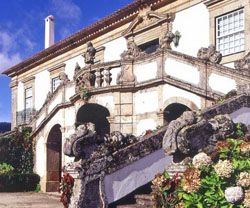 Luxury Real Estate:
We drop in on one of Europe's oldest countries, Portugal, for this fantastically lavish single-family residence. While it dates back to the 15th century, the plumbing and all other creature comforts are 21st century plush...and then some.
Welcome to the House of Quint?. With 220 acres of land and a dwelling with more than 31,000 square feet, there is an aura of tranquility and pageantry that permeates this estate. It sets atop a hill, providing picturesque views of pastoral lands filled with vineyards, outdoor art and fixtures of sculpted stone and artful décor as far as the eyes can see.
This is by far the best domicile in Soalh?es, a sleepy town in the municipality of Marco de Canavezes. It is an enchanted land of epic proportions with ancient ruins, nearby rivers, and easy access, if desired, to the rest of us.

Added treasures: There also is a private tennis court and a swimming pool as well on the grounds and numerous hiking and biking trails. There is even a golf course and a shooting range in the area.

Visit LuxuryRealEstate.com for further information.