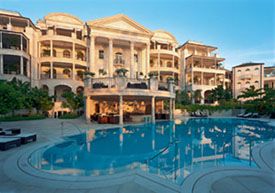 Luxury Real Estate:
This bright and balmy slice of idyllic tropical living is brought to us today from the Platinum Coast of Barbados in the
Caribbean
. Barbados, in the West Indies' Lesser Antilles, overlooks the Caribbean Sea. It is among the most prestigious of all the Caribbean Islands and has been a favorite of world travelers since the early 1960s.
This elite gated community, the Sands, is located in Saint James. The Sands is an exclusive luxury compound adjacent to the wondrous Sandy Lane Beach and is made up of eight super-size luxury villas. The houses range from 8,000 to 9,500 square feet of living space in addition to private terraces and communal areas outdoors.
These opulent residences are magical throughout with vaulted ceilings, spiral staircases, marble floors, and the decorative touch of various internationally renowned interior decorators. Lucky residents of these deluxe single-family mansions also tap into all the amenities of the five-star Sandy Lane Hotel, including the Tom Fazio-designed Green Monkey championship golf course, year round.

The Sands is among the most elegant properties ever built in Barbados.