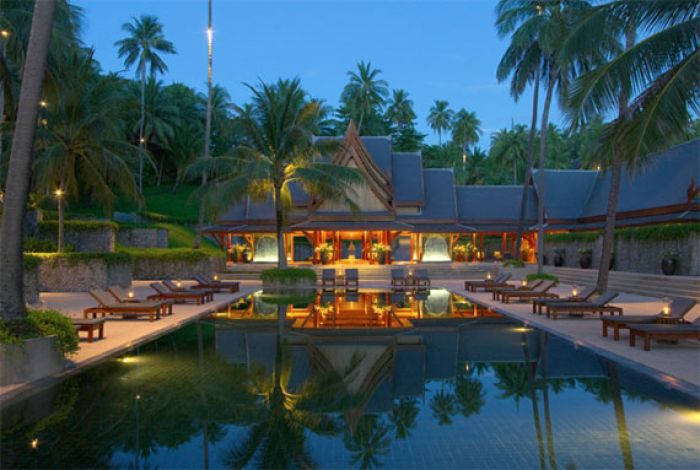 Photo Courtesy of Amanresorts
Amanresorts founder/chairman Adrian Zecha will receive a Lifetime Achievement Award on behalf of Amanresorts from International Luxury Travel Market at an awards ceremony on June 13 at the Portman Ritz-Carlton.
This honor confirms Amanresorts' status as one of the world's preeminent boutique hotel groups — one which has set the standard for service and aesthetics since its inception in 1987. The company specializes in small hotels that bear the Aman stamp but still incorporate design elements and organic features of the surroundings.
With 23 resorts worldwide, Aman serves discerning travelers from Bora Bora to Jackson Hole, but the bulk of its properties are in Asia. In our December 2010 JustLuxe feature on Sri Lanka, correspondent Katherine Bond profiled
"enduring and unforgettable" Amangalla
at Galle Fort and "tropical modernist" stunner Amanwella. However, in JustLuxe coverage of Amangiri in Utah, Bond deemed Aman's Stateside efforts every bit as impressive and distinctive, if not yet as recognizable by name.
Debbie Joslin, ILTM Exhibition Director commented, "As one of the forefounders of the incredibly high levels of service that the luxury travelers of today expect." In the past 25 years, luxury consumers have come to rely on this Asian-based brand for its quiet yet undeniable quality. And after a quarter-century of existence, it remains distinctly an Asian brand. Thus, it's fitting that after Aman's Zecha receives the
ILTM
Award, a panel will present insights into the mindset and priorities of the emerging Asian consumer. The topic is "Is the Asian luxury traveler dictated by culture, wealth or both?" One only has to look at Aman's success to know the answer.