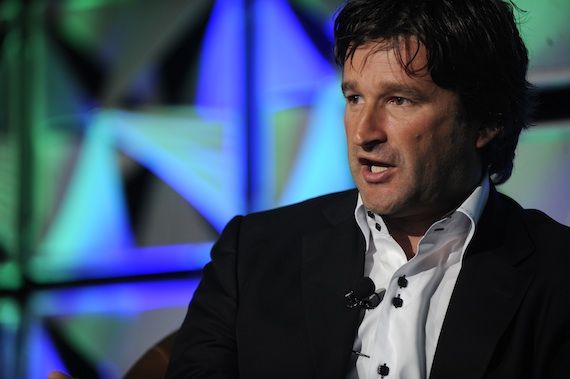 Photo Credit: Riccardo Savi
When it comes to the high-end automobile industry, if there is one person who is considered a true thought leader, it is Christophe Georges. At age 45, he is the president at COO of Bentley Motors, Inc., a position he has held since the fall of 2007.
Prior to this, he was the Regional Director, Europe, for
Bentley Motors
, Limited, where he was responsible for the company's entire business activity in Europe. During his time in Europe (he is now based in Boston) Christophe presided over a 20-fold increase in Bentley sales and was responsible for the introduction of the brand to six new markets including the growing Russian market.
JustLuxe
interviewed him at the
American Express Luxury Summit
last week.
JustLuxe
: How do you see the uber-wealthy population evolving? And how does Bentley fit into that evolution?
Christophe
: The population is becoming younger and younger and the Bentley purchase often relates to what they dream of: younger people dream of owning a Bentley - an automobile that defines both legacy and value. Dreams play a big role in purchase, passion does also. This population is being educated in passion - they purchase what they are passionate about. And Bentley defines a certain kind of passion - for the best of the best, for the brand heritage, for the beauty of design and functional detail of Bentley.
JL
: There is a growing eco-sensitivity need for certain age groups. How is Bentley addressing those needs?
Christophe
: Bentley is committed to new forms of green technology and, by 2012, next year, our products will be using an 85/15 Flex Fuel in all Bentley models. Since all of Bentley's cars are turbocharged, they should be well suited to running on the high octane ethanol. Flex Fuel offers the possibility of up to a 70 percent reduction in CO2 net emissions on a "well to wheel" basis, Biofuels can be created from sugar cane and soybean, or from secondary sources such as agricultural waste and forestry residues. As biofuels are not derived from fossil fuels, the CO2 released during combustion is reabsorbed by plants during the photosynthesis process, thus creating an unbroken energy cycle.
JL
: In working with the uber-wealthy and selling to them, the concepts of heritage and history have much to do with brand value. How will these ideas be used in future marketing campaigns to attract younger buyers, and especially with a great, mature brand?
Christophe
: Well, we will not, we cannot change our DNA, as that relates to our brand. And in Europe, the idea of heritage and legacy is as much a part of our brand as the story and experience is here in the United States. But in both countries, our marketing speaks and indeed concentrates on our foundations: our brand, our customer satisfaction, and our investing in new eco-sensitive technologies.
JL
: How have you seen the recession affect Bentley and how do you see it moving forward from the recession?
Christophe
: What was missing during the financial crisis was confidence and a sense of
permission
to buy, but now, positive signs are growing - people haven't forgotten about their dreams. And Bentley is a dream of many and well within reach of many also. Bentley is targeting growth this year of more than 10 percent in the U.S., the largest market for luxury cars, more than double the 4.3 percent rise in 2010.
Bentley's growth plans involve the new $189,900 Continental GT coupe, which had its U.S. premiere in Detroit last year. The company is planning to make about 850 for the U.S. this year. In addition, Bentley has sold all 230 units of the $285,000 Mulsanne sedan after introducing an updated version of the car in December 2010, according to Bloomberg News.
{start-jlvideo}854{end-jlvideo}


All Luxury Summit Photos Courtesy of Riccardo Savi


Christophe Georges, speaking on Luxury Summit Wealth Panel
Luxury Summit Wealth Panel (l-r): Christophe Georges, President, COO of Bentley; Hamilton South, HL Group; Nicolas Bos, President and CEO, Van Cleef And Arpels; and Richard David Story, Editor-In-Chief of Departures Magazine
Luxury Summit Cocktail party at the Vista Room, The Montage, Park City Utah
Formal Dinner, Luxury Summit, The Montage, Park City, Utah