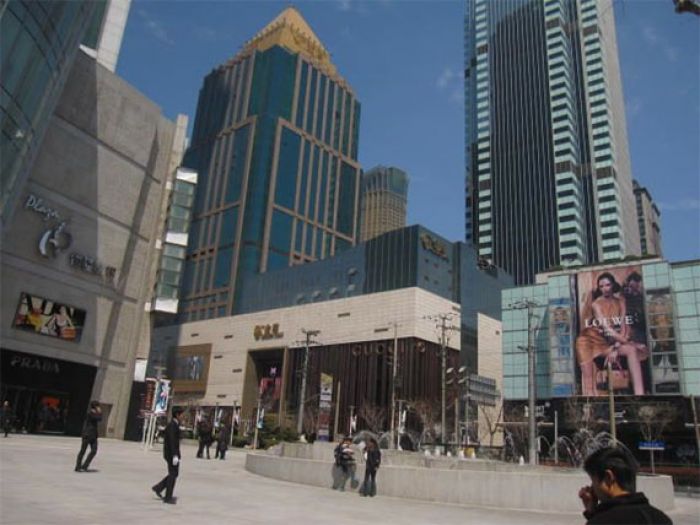 When Fendi staged its unforgettable runway show at the Great Wall of China in 2007, it marked the beginning of the country's powerhouse fashion potential. Yesterday at the Beijing Television Center, Burberry put on their biggest show ever, which was simultaneously broadcast throughout the world.
In the four years between these two splashy presentations, there's been a magnetic effect as
luxury brands
are increasingly drawn to China. But does this really mean that the country is the new superpower of fashion?
China's might is rarely discussed separate of its stunning 1.3 billion population. Statistics show that approximately 10 million Chinese families earn the equivalent of $15,000, the median upper middle class income, with that number set to grow to 76 million within five years.
Although it's this aspirational group that luxury lines are targeting as first stage brand consumers, there are also more millionaires and billionaires than ever — and the number is still growing. With 80 percent of this consumer base under 45-years-old and looking to luxury branded goods as the ultimate measure of success, there appears to be a perfect storm of near-term growth for China.
On the streets of Beijing and
Shanghai
, Gucci and Louis Vuitton logo bags are everywhere — even ignoring the high levels of fakes. Boutiques brag about the idle and ostentatious women who buy up to five of everything in every color, sating a newly acquired appetite for luxury consumption. While questionable when it comes to taste and discernment, the spending power is undeniable and the marketplace is buzzing with declarations that the Chinese shopper consumes more luxury goods than Americans.
Burberry just opened its Asian flagship in Beijing's Sparkle Plaza, and has plans to double its presence by 2012. But the British brand is just the latest label to join the ranks of other high-end names in China's capital. The Jinbao mall complex in Beijing's Dongcheng District boasts shiny new Gucci, Bottega Veneta, Burberry and Canali stores. Shin Kong Place features a blinding scroll of brands including Givenchy, Marc Jacobs, Prada and Salvatore Ferragamo.
And Beijing Yintai Center, annexed to the Park Hyatt, features everything from Hermes to Dolce & Gabbana and Cartier. The IFC mall in Shanghai can't seem to open a store quick enough. A soon to open Lanvin boutique will join the Dior, Prada and other boutiques already opened in the ritzy mall on four floors and there's a rumored waiting list for other vendors.
Hermes, meanwhile, launched Shang Xia, an innovative concept for the brand with all the merchandise (accessories, home and furniture and limited edition cultural objects) manufactured in China, in Shanghai. From the chic Chanel outfit at the Peninsula Hotel in Shanghai, it's also clear that the label's Asian hub has a better selection of merchandise than cities such as New York and Milan, while the Louis Vuitton store at Plaza 66 mall is the largest LV boutique on a single floor on the planet — quite a feat considering there are 500 stores worldwide. China is going bigger than we could have imagined.
Diane Von Furstenberg
, who has stores in both Beijing and Shanghai, is banking big on the country. Last month, she took the two cities by storm with her Red Ball in Shanghai and a Pace Gallery extravaganza in Beijing, which showed her Journey of A Dress exhibition. The event brought out China's most influential artists and celebrities to help catapult the brand to household name status in the country.
But these developments are not limited to the obvious cities, brick-and-mortar boutiques or clothing, for that matter. The signs point to more and more of the luxury brands opening in other provinces such as Guangzhou, which sports its own Gucci store, or Hangzhou's newly opened MixC luxury mall. Though skeptics question online sales potential due to myriad issues (authenticity, shallow credit card penetration, delivery, etc), Xiu.com is the Country's closest thing to a Net-a-Porter.
It continues to invest millions in the effort, having just secured a $20 investment from Kleiner Perkins Caufield & Byers this month alone. Yoox.com also recently launched a Chinese division and DVF is said to be planning to make online sales a significant part of her business plan in the country. To round out the heady amount of activities in China, the entire luxury lifestyle — car dealers, watchmakers, jewelers and furniture designers — all appear to be on high-scale roll out around the country.
If there is one negative on how the Chinese consume, it's that thus far they prefer to buy their products from a single branded store — and preferably a well-known one. Multi-brand stores face a greater challenge. Joyce in Shanghai at Plaza 66 sees brisk business for its Stella McCartney accessories, but less prominent lines such as Alexander Wang require a more insider knowledge to trigger purchases.
Lane Crawford, a multi-brand staple in Hong Kong, is still finding its place in Beijing. Stark, one of the better boutiques we saw on our visit to Jinbao mall and another Hong Kong exports was well-aware that it may take a couple more years for the hoards to enter their store, which mixes Balmain, Andrew Gn, Giambattista Valli and Alexander Mcqueen, but the time will hopefully come.
The general feeling is that it will take a while longer for the Chinese consciousness to get up to speed on, say, a Prabal Gurung, Christopher Kane or any of the other international rising stars, but the question still lingers when will that time come?
Via
JC Report