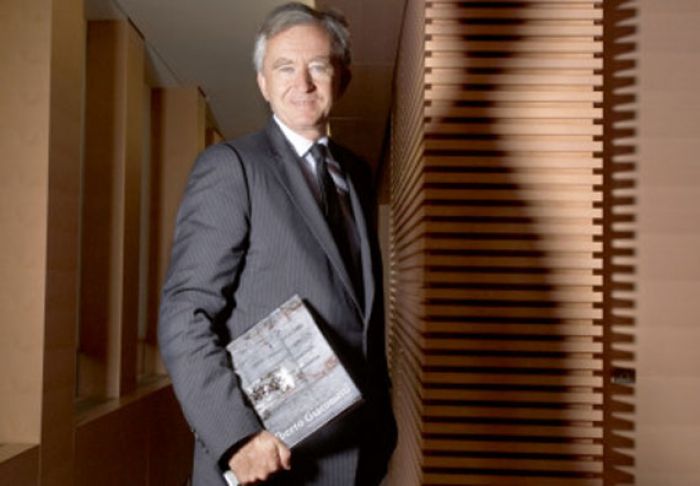 Whilst investment news is rarely sexy, LVMH and Herm?s are doing their best to bring a little excitement to the boardroom. Vice-Chairman of LVMH and one of Bernard Arnault's closest and oldest advisors, Pierre Godé surfaced at the Herm?s annual general meeting in Paris, assuring the congregated shareholders that 'LVMH will be a healthily active shareholder, it will not be activist and will be entirely peaceful.'
Whether one accepts this presentation of LVMH as the passive opportunist, or prefers the media's description of Arnault as the wolf in cashmere, Herm?s are not convinced. Chairman Bernard Puech has requested that, if LVMH is full of such neutral intentions for the brand, they reduce their share to half of the current 20%.
Similarly in the conglomerate camp, PPR have announced intentions to divest retail businesses Redcats and FNAC in late 2011, following the sale of Conforama in March, to focus on higher-margin luxury goods and sports/lifestyle brands. Adding to the lifestyle portfolio, PPR bid in May to the tune of $607.5 million, for California-based surf and skate brand Volcom Inc.
The completed deal was met with particular backlash from one shareholder, Gabriel Graff, who described the proposed $24.50 per share 'grossly inadequate'. Representing 'all shareholders', Graff has gone on to sue Volcom individually, for a deal that is 'unfair and coercive to shareholders.'
Listing, Moncler
Moncler received clearance from the Italian bourse for its planned €500 million initial public offering, the Milan stock exchange said. The company has begun marketing the share sale to potential investors and will start a round of presentations in Europe and the US. The IPO will be made up mainly of existing shares, mostly from U.S. private equity firm Carlyle, which owns 48 percent stake of the company.
Receivership, Jean-Charles de Castelbajac
Jean-Charles de Castelbajac has officially gone into receivership, following past closures of his London and Lyon boutiques and an operating deficit of €2.4 million in the last reported figures of 2009. The designer has expressed a wish to remain a shareholder in his namesake company and that the business is currently in talks to allow the entry of a new shareholder.
Launch, Amex, Vente Privée
Following the success of Vente Privée's European business, American Express have formed a joint venture with the French online luxury goods retailed to launch a similar service in the US market. Ownership of the new venture will be equally split between American Express and vente-privee.com, however, no further financial details were disclosed.
Sold, Jimmy Choo
Private luxury group Labelux, the current owner of Bally and Derek Lam, has bought Jimmy Choo for a reported £500m. This marks the fourth time the company has been sold since its launch and just four years after private equity firm TowerBrook Capital Partners paid £185 million for the brainchild of Mr Choo and Tamara Mellon.
Speculation, Lotus
Lotus has moved into the financial spotlight after CEO Dany Bahar revealed he was considering a partnership with a larger carmaker, or spinning-off the brand from current corporate owner Proton, to be publicly traded.
Intent, Coach, IPO
CEO Lew Frankfort announced his intention to pursue a dual listing of Coach shares on the Hong Kong Stock Exchange, in a bid to 'raise awareness of the Coach brand among investors and consumers in the China market as well as throughout Asia,' citing China as Coach's 'biggest geographic opportunity.' No additional shares would be issued, nor capital raised though this listing.
Issued, Jaguar Land Rover, Bond Sale
Parent organisation, Tata Motors Ltd., recently announced a £1 billion bond sale for Jaguar Land Rover PLC . Bankers handling the deal revealed that the British unit of Tata Motors and its advisers were meeting with investors in Europe and the U.S. ahead of a planned three-part bond issue.
Investment, Gilt Groupe
Flash sales company Gilt Groupe has raised $138 million in a massive new venture funding. Led by a $62.5 million injection of funds by Japan-based telecom, Softbank Group, new investors also include Goldman Sachs, New Enterprise Associates, and Draper Fisher Jurvetson Growth. Gilt Groupe will also work with Softbank to create a 50-50 joint venture called Gilt Groupe Japan.
Listing, Salvatore Ferragamo
Still majority-owned by the Ferragamo family, Salvatore Ferragamo SpA, recently presented its request to list its shares to the Italian stock exchange, dismissing reports of a possible listing in Hong Kong. Mediobanca Banca di Credito Finanziario SpA (MDIBY, MB.MI) and J.P. Morgan chase & Co. (JPM) will serve as coordinators and joint bookrunners for the deal.
Sold, Kurt Geiger
American conglomerate The Jones Group, owner of such brands as Nine West, Stuart Weitzman and 33 others, announced the acquiistion of Kurt Geiger from private equity group Graphite Capital for £215m. The move is said to allow The Jones Group to use Kurt Geiger & existing infrastructure as its "European hub" to distribute its US brands abroad and to bring Kurt Geiger's brands to the U.S.
Speculation, Milan Station, IPO
In a bid to further expand in major Chinese cities, Milan Station – retailer of new and second hand designer hangbags – is seeking to raise almost $35 million in an initial public offering in Hong Kong. The retailer currently operates 14 outlets but plans to set up 24 new outlets Beijing, Shanghai, Guangzhou, Chengdu, and Hangzhou, in the next two years.
For Sale, Pierre Cardin
Eighty-eight-year-old Pierre Cardin has officially put his namesake brand up for sale, asking €1 billion. Sales are currently managed by over 400 licensing partners worldwide, resultantly Cardin is unclear about annual turnover: "I don't know how much it makes, it's incalculable", he said.
Stake, Jean-Paul Gaultier, Puig
Acquiring a controlling stake in Jean-Paul Gaultier, Puig recently purchased 45% held by Herm?s International and 15% from Gaultier himself. Puig will also take control of Gaultier's fragrance license in 2016, currently held by Shiseido subsidiary Beauté Prestige International. Gaultier will step down as President, focusing on designing couture and ready-to-wear collections for men, women and children, as Manuel Puig, also president of Nina Ricci, will move into the operational role.
Speculation, Halston
Halston have reportedly hired an investment bank to explore its growth options, allegedly exploring everything from external investment to the sale of company. Hilco Consumer Capital and Harvey Weinstein's The Weinstein Co currently own the American label, of which Sarah Jessica Parker is president and chief creative officer.
Speculation, Brunello Cucinelli, IPO
Following
news of IPO's from Prada
, Moncler and Ferragamo, Brunello Cucinelli is rumoured to be the next Italian luxury brand looking to go public. Founder and CEO Cucinelli has confirmed that there is a project on the table that will be co-ordinated by Mediobanca and Merrill Lynch, however there is currently no official timeline or valuation.
Speculation, Pomellato, IPO
Again following the current Italian suit, jeweller Pomellato plans to sell shares in an IPO, according to CEO Andrea Morante. "Our objective is to take Pomellato public," Morante remarked, amid reports that shareholder Damiani SpA (DMN) was seeking to divest its stake. However he also remarked that there are no current talks to sell the company and that an IPO project was not likely to launch until 2013.