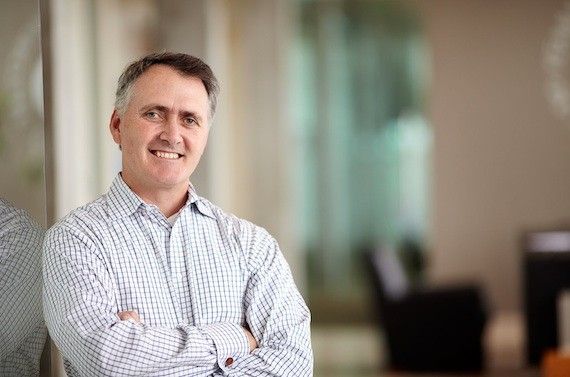 Photo Courtesy of SB Architects
One of the more transformational thought leaders in the current architectural landscape is Scott Lee, President and Principal of SB Architects, a 50 year old multi-awarded and renowned design firm in San Francisco and Miami.
SB Architects has garnered a worldwide reputation in the planning and design of high-end destination hospitality as well as urban mixed-use and family residential projects. Scott leads the firm's international design practice, and is working on projects in many emerging markets, including India, Africa, and his recently finished project, the Mission Hills Volcanic Mineral Springs And Spa, on Hainan Island, in China.

I have written on the Mission Hills Volcanic Mineral Springs and Spa before, and was amazed at the architectural design of a serpentine dragon-like structure, which relates both to Chinese legend, and also with the diverse cultural nature of the treatment room system within the spa design. Who thought of this unique design? And how long did it take you to implement it?

Scott Lee: The idea of the serpentine spine for the Mission Hills Volcanic Mineral Springs and Spa initially emerged early in the conceptual design and planning stage as an organic connection between the different areas of the spa, which are designed along continental themes. It represents a journey between these very exotic and different destinations within the Mineral Springs and Spa. As we developed the idea of the journey further, it became a raised walkway of bamboo, an abundant local resource that grounds the design in the topography of Hainan Island. Given the international nature of this spa experience, it seemed eminently appropriate that the walkway that draws the experience together, and the main spa structure that represents the centerpiece of the experience, reflect the character and natural surroundings of Hainan Island. The fact that the walkway looks like a dragon's spine when seen from above sealed the decision, providing a reference to greater Chinese culture and legend. This design solution was truly a consensus between planner, architect and client. 



You have worked on multiple high-end hotels, mixed use projects before — the Ritz Carlton, St. Regis, Montage, Auberge, Fairmont, and now you have worked on many high-end Far Eastern brands also. How do you see the difference in building philosophies as it relates to the architectural designs and materials used, or is there any difference in philosophy when it comes to getting a design finished?

SL: I think that in Asia, and in China in particular, what we are seeing is actually the beginning of a process. China has embraced the international community, urban development, and international design on an amazing scale, at a pace that is staggering. As they have done so, a deep appreciation for the cultures and styles of other countries has emerged, resulting in the wish to emulate those styles within their developments. The result is a large body of referentially-designed projects, as well as an appreciation for cutting-edge contemporary design. I predict that this process will continue to evolve, and architecture in China will take on its own, unique character. In that process, both traditional and contemporary design vocabularies will look not only to international icons, but to local, regional and national influences for inspiration, connecting even the most cutting-edge urban projects to their individual contexts. 



You have been in the architectural design and implementation field for the past 25 years — when I ask you what has changed in sensitivity and sensibility with land developers from 1987 to now, what stands out as the most relevant change? 

SL: Our firm has been in continuous design practice for over 50 years. Our clients have changed over the years to include not only regional developers on the coasts of the United States, but land developers from all parts of the world, the leading international hotel brands, and more. While the size and the scope of our clients have changed, the personal connection they feel to the individual projects they are developing has not. I think the boutique, hands-on nature of our practice is an advantage, even when practicing on an international scale. We are flexible, responsive and personally connected, and there isn't a culture on earth that doesn't value that. One of the biggest changes we've seen in recent decades is, of course, the growing sensitivity toward environmentally sustainable design and development practices. As a firm that has built our reputation on site-sensitive design, (long before it was fashionable), our focus has allowed us to play a role as advocates and educators as the push toward environmentally sensitive design expands and grows around the world. It's very exciting. 

I am aware that many of your properties have a sustainability DNA to them. How do you see this eco-sensibility growing in the Middle East and the Far East in the immediate future? Or is it growing at a slower pace?

SL: Sustainable design and development practices are far more established in the United States and in Western cultures in general than they are in other parts of the world, but that is changing. China is a perfect example of a country that came to the idea later. However, once it began to catch on, the speed with which the idea has grown is astounding. We've found this true throughout our work in China — once an idea is established, there is no stopping it.  



Your brochure states that your strength lies in the ability to "envision unique communities and authentic experience through design solutions inspired by the regional vernacular." I am interested in this process, as regards to which comes first. I would guess the regional vernacular comes first, as you must understand the milieu before you can build significance into the community and the guest experience. If this is true, could you comment further, and give some examples?

SL: You are absolutely right. The regional vernacular comes first, the culture and traditions come first, and the site comes first. The design process begins with a study of these inherent factors, as well as the needs of the client and project program. The place where the two come together forms the starting point for our design process. Design solutions that are culturally and contextually relevant will naturally be more authentic and sustainable. This doesn't mean that every design solution has to be traditional or referential — modern design can respond to the site and reference indigenous architecture every bit as much as traditional design vocabulary. It's the authentic response that we strive for. 

A good example is Dorado Beach, A Ritz-Carlton Reserve, which is under construction right now. Dorado — which is designed for LEED Certification — uses an architectural vocabulary that is very modern, but looks to indigenous architecture for its core inspiration, so it feels contextually relevant and lasting. It also incorporates as part of its core identity the legacy for environmental stewardship established by Dorado's original developer, Laurence Rockefeller. This grounding in the history and culture of the site allows our modern design for the resort take on character that is entirely unique, and will not be duplicated anywhere else. 



I am curious about the new communities mentioned in your SB Architects brochure. What is Dreamtown in Shenzen, China and what is Dubai Festival City? Are there any design/architectural/conceptual similarities in these new communities, even though they are dispersed on many different continents?

SL: In developing regions of the world, the opportunity and the need often exists to create whole communities —m residential communities, mixed-use communities, resort communities, whole towns — where none existed before. For these projects, we are more often than not creating the overall sense of community and character from scratch, working from the very earliest planning to conceptualize the design, usage patterns and life within this new town or community that may take years or even decades to complete. This takes tenacity and vision and — in answer to your question — every project is different, because every region is different and every site is different. Each solution, whether it is a new town, or a small boutique hotel, begins as an authentic response to the site. 



I have been to and written many articles about one of your projects — Calistoga Ranch in Calistoga, California. This, from an outsider's perspective, must have been a complicated project, as it was zoned, so I have been told, for modular/mobile homes. It is also on 52 acres in an obscure canyon, and there are ancient live oaks that were not to be moved. Yet, architecturally, it is a dazzling place. Could you comment on your process of dealing with all these issues?  

SL: Calistoga Ranch was an entirely unique process. Our primary goal was to combine a luxury experience and sophisticated design with an intimate, authentic connection to the natural surroundings. The short answer was two-fold — never lose sight of the fact that the site itself is the resort's most important amenity, and be confident enough as designers to let the architecture take a back seat to the canyon setting.  

The long answer was much more complicated. The site for Calistoga Ranch had long been zoned as a camp-ground, with a strict limit on stick-built construction. Rather than try to change the zoning, as a team we chose to work within the existing zoning. In response to these zoning restrictions, and the goal of disturbing the site as little as possible, each guest and owner lodge is actually a series of modular units, connected by wooden decks, trellised walkways and large outdoor deck/living areas. Each of the over 200 structures is individually placed to disturb the site as little as possible. There have been virtually no grading changes, and the only real excavation has been for the property's pool and wine cave. All of the resort structures were built around trees, rock outcroppings and site contours.  Every tree was meticulously marked to save nearly all old-growth woods. The result is that every guest or owner lodge is entirely unique, every curve of the land and bend of the trees became a part of the design, and the connection between indoors and outdoors is seamless and authentic. And there is no question that it is sustainable. 



If you passed away tomorrow, what three or four projects would you want to be remembered for and why? 

SL: Mission Hills — All of our work for Mission Hills, but the Mission Hills Volcanic Mineral Springs and Spa at Mission Hills Haiku in particular, gives me the chance to continue the work of our partner, Joe Andriola, who passed away a year ago. Our work in China is an amazing opportunity, Mission Hills is an amazing client, and I get to carry on and complete Joe's legacy. I consider myself lucky. Dorado Beach, A Ritz-Carlton Reserve — This project is not even finished, and I know I'd like to be remembered for this one. Assembled by a huge, and hugely talented, design and development team, this project fuses together everything that resort design should be; it will be LEED-Certified, it will be beautiful, it melds together influences from all points of Puerto Rico's culture and the history of the site, it does all of this with a modern design vocabulary, and it will be the second Ritz-Carlton Reserve in the world — the first in the western hemisphere.  

Calistoga Ranch — It's iconic, yet entirely without pretense. It celebrates the site. It's sustainable. It's beautiful. It gave us a chance to create a new architectural language that is unlike anywhere else. And it presented a challenge that is of the type that makes an architect's life worth living. 

Visit SB-Architects.com to learn more.
SB Architects


Mission Hills Spa Entry