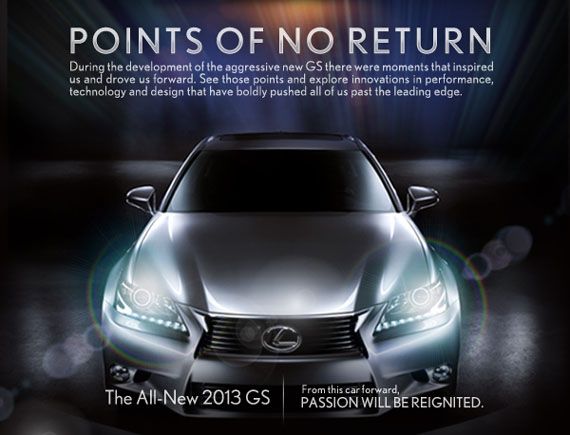 Photo Courtesy of Lexus
Top luxury car manufacturer Lexus is getting an early jump on Facebook's anticipated Timeline for brands with the launch this week of its own Timeline-inspired app, Points of No Return.

The all-new 2013 Lexus GS is the featured vehicle. Fans are asked if they remember milestones in the history of the GS model along with monumental events in social media, technology, and design in the timeline. The fans' responses are then shared on their personal Facebook Timeline. Each interaction with the application is posted separately like individual status updates.

Events chronicled on Points of No Return include the launch of the LF-Gh, which is the Lexus concept vehicle that inspired the new GS, and the world debut of the 2013 GS at Pebble Beach Concours d'Elegance.

The Facebook Timeline-inspired app uses the new Open Graph, which enables a higher level of engagement with fans by the customization of usable verbs beyond "Like." The Open Graph is a transmission tool used to get information into Facebook from other websites and vice-versa. Lexus uses "Want," "Remember," and "Own" instead of "Like." For example, "I Want This, "I Remember This," and "I Own This" supplant the traditional "I Like This" on the app.

"We developed this application to empower Lexus fans to engage with the brand in a new way, leveraging Open Graph features to enhance user experience," said Brian Smith, Lexus VP of marketing. "We're not waiting for the future. It's all about innovating, including a 'sneak peek' of exciting things to come on Lexus' Facebook page."

This launch also makes Lexus an early developer to incorporate Facebook's new Gestures platform. For more information, visit Apps.Facebook.com.