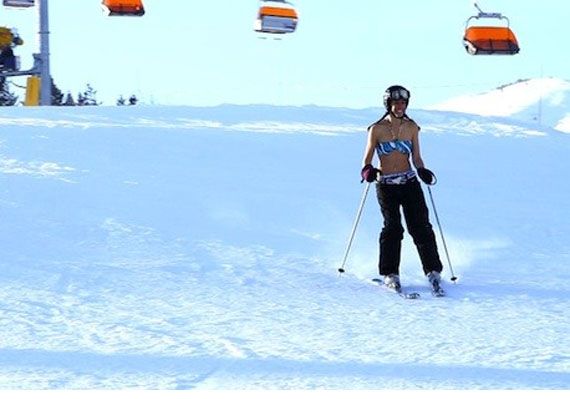 Photo Credit: Tracy Gallagher
There are those who have a serious attraction, probably bordering on addiction, to Winter
skiing
, and never think of keeping their skis out after the first day of Spring. But then there are those who wait for a certain time, when the weather is warmer, but the snow is still dry and powdery and the slopes are less crowded.
And they don't have to layer so much — usually, no facemasks, turtlenecks, gloves or triple-ply undershirts. To those people, Spring skiing is
Ultima Thule
, and especially at Canyons Resort, in Park City, Utah, due to the extensive renovations of the area, completed recently.
Right now, the Spring season is in full swing, as thirty inches of snow fell last week followed by a week of sun. The weather, to those who live in Utah at 7,000-9,200 feet, is balmy — about 35F in the daytime, 20F at night. This represents the ideal Spring conditions for skiing, and it is not coincidental that two of the biggest events of the season occur in coming days at the fifth edition of Spring Grüv, Canyons' trademark March snow and music festival, with Pond Skimming, Red Bull Schlittentag and a concert series including Little Feat, John Brown's Body and Martin Sexton. New this year is the Operation Smile Downhill Celebrity Race, hosted by Billy Bush of Access Hollywood. 
Canyons Pond Skimming features daredevil athletes trying to ski/surf/board their way across a 100-foot pond in a wild assortment of costumes. Celebrity judges cast votes for Style, Air, Costumes, Crowd Reaction and Distance. Then, a week later, Red Bull Schlittentag (
sledding day
in German) moves into focus as energy drink devotees hurl themselves toward the revved up crowds at Canyons' Ski Beach in homemade
sleds
ranging from converted sofas, cribs, and furniture pallets. As can be seen, Spring skiing defines a different mindset to skiing and snowboarding, probably because it is Spring, more improvisational, with more than a touch of Spring Break
joie de vivre
.
Canyons, the fourth largest ski area in the U.S., has recently received a substantial makeover that includes the creation of Ski Beach, the social gathering core of the resort village, seven new restaurant openings, and the creation of the Orange Bubble Express, the name for the quad/heated seat gondola, the first in the U.S. The Express moves quickly up the mountain to the many powder trails in 12 minutes, and accesses 300 new acres of ski trails.
In 2010, virtually the entire resort village was torn down and rebuilt, and this season, with everything in place, ski life, especially Spring ski life, has grown exponentially in popularity. Canyons is now the largest resort in Utah, and is really a resort enclave that combines The Grand Summit Hotel,
The Waldorf Astoria Park City
, The Silverado Lodge, Hyatt Escala and Vintage On The Strand. It also combines two world class spas, The Golden Door at The Waldorf Astoria, and The Canyons Resort Spa at the Grand Summit Hotel.
In addition, as if all this newness were not enough, a game-changing conveyance appears to be on the horizon. SkiLink, a Canyons proposed 8-passenger gondola that will connect Canyons and Solitude resorts in just 11 minutes, has come much closer to being built. House Resolution #3452 was approved by the House Natural Resources committee on February 29, 2012. It now awaits review by the full House. It's worth noting that the Utah legislature approved a non-binding resolution supporting the inter-connection of all seven resorts around SLC (Alta, Snowbird, Solitude, Brighton, Canyons, PCMR & Deer Valley) on March 7, 2012.
Ski Utah, its board of directors, and 300+ members have been encouraged by this next step toward a multi-resort connection, further strengthening Utah's $1.2 billion ski industry. If/when it passes, SkiLink will be a major game changer in the ski industry in Utah, and the Rocky Mountain West.
These additions, renovations, inventions and recreations are the work of Jack Bistricer, owner of another large Park City resort called Talisker, the largest mountain real estate and resort operating company in Park City, Utah. With 14,000 acres in the Wasatch mountain range, from the slopes of the Deer Valley® Resort to the valleys surrounding the Jordanelle Reservoir, Talisker, under Mr. Bistricer's aegis, developed three of Park City's preeminent family-oriented residential communities — Tuhaye, Empire Pass and Red Cloud — united as one through Talisker Club, an exclusive private club.
When Talisker acquired Canyons Resort, it added 4,000 acres of internationally acclaimed ski and snowboarding terrain. The Spring skiers can ski all they want until mid-April. Then, they must tolerate Summer sports — hiking, biking, swimming, until the next big snowfall hits, usually around Thanksgiving. Seven months...not bad! Visit
CanyonsResort.com
to learn more.
Canyons
Grand Summit Lodge Exterior
Canyons
Waldorf Astoria Park City