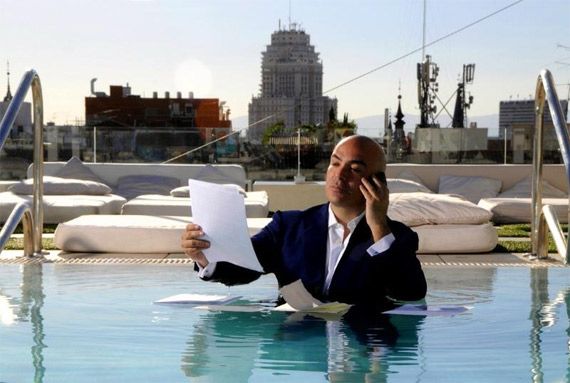 Photo Courtesy of Kike Sarasola/Room Mate Hotels
The second installment in our series on
emerging hoteliers
who are changing the lodging game spotlights a man whose success in brand creation is a product of his tireless creativity and innately hospitable nature.
Sit down at a table with Enrique "Kike" Sarasola, the charismatic Spaniard who founded Room Mate Hotels, and—even though he may be on a round-the-globe media blitz with 50 more stops to go— he makes you feel as though your meeting is the most interesting thing to happen in weeks. He discusses new hotel openings
in Miami and South America with the same sort of enthusiasm as another man might talk about installing a guest cottage in the back yard: He is excited, but modest. He visibly hopes you'll be impressed with the final results.
Other hotel CEOs might arrive for a presentation with an army of PR handlers, a video presentation and a smoothly rehearsed speech. Sarasola arrives on his own, with no multimedia assistance, and asks simply:
What do you want to know?
Based on your answer, he serves up anecdotes and insider details on all 15 of his properties, plus others still in the pipeline. He discusses everything from Miami building codes (Complex! Slower to navigate than expected.
Sigh
) to original art installations (The Coca-Cola Light billboard at Room Mate Oscar was made of 15,000 limited-edition bottles!).
A corporate suit, he is certainly not. A killer businessman, he may well be, though he doesn't flaunt it. But as the driving force behind an idiosyncratic hotel brand, Sarasola absolutely shines. Below, an introduction to Room Mate Hotels: the man and the brand.
JustLuxe: Just so we're not lost in translation, explain the concept behind the "Room Mate" name and brand.
Kike Sarasola:
Room Mate Hotels is a collection of
boutique hotels
that bring affordable and stylish luxury to discerning travelers. We founded it in June 2001, under the philosophy that the best way to travel is by visiting friends in each city—friends who share our lifestyle and transmit their knowledge and experience of the city. We make sure that each property is created with its own persona, named after a unique individual who loves to explore and relish in the excitement and trends of today's most cosmopolitan cities.
Room Mate Hotels takes on the role of host. The hotels are conceived as "homes" that open their doors to travelers in search of comfort, warmth and the hospitable spirit that Room Mate offers. Hence the name.
JL: Describe your background. How does it influence the Room Mate brand?
KS:
My family has always been in real estate. I also used to be very active in the sports arena, participating in three Olympic Games in Barcelona, Atlanta and Sydney. In all of my travels I came to realize that the hospitality industry wasn't as hospitable as it could and should be. It became my personal quest, with family and friends, to create a chain that makes you feel like you are staying with a friend in the heart of some of the best destinations around the world.
When we got together to think about it, we saw that the best way to travel to a city is visiting a friend. And that is why each one of our hotels has a name and a personality with its own philosophy and profile.
JL: Using three adjectives, how would you characterize the overall Room Mate experience? Does it change from one property to another?
KS:
I would characterize the Room Mate experience as chic, personalized, and centrally located. These characteristics can be seen at each one of our properties around the world and are expressed differently based on the property.
JL: Give us one example: the name, personality, philosophy and profile of a specific Room Mate property.
KS:
Oscar, for example, in Madrid's Gran Via neighborhood, is a buzzing, nightlife-enjoying actor who loves to travel and party. The hotel is well-suited to guests who are drawn to the same things, and the décor is specific to that energy, with dramatic art installation walls of steel hoops and faceted ceilings of frosted glass with dark, dramatic carpets and wall-sized nude photo montages.
JL: Tell me your single favorite unique feature in three different properties.
KS:
All of the properties bring something exciting and unique to the table, but my favorites include:
The rooftop terrace at Room Mate Oscar in Madrid, La Terraza de Oscar
The indoor swim-up bar at Room Mate Grace in New York (the only one in Manhattan!)
The new gastrobar at Room Mate Larios in Malaga, Spain
Visit
Room-MateHotels.com
to learn more.
See The World's Best Luxury Hotels