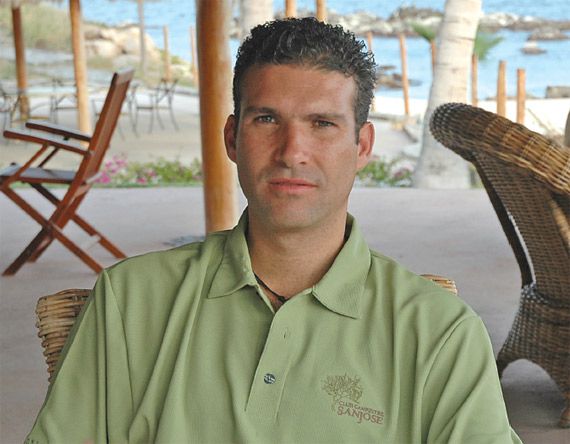 Photo Courtesy of Grupo Questro/Los Cabos Magazine
Many developers of deluxe real estate properties are being more ecologically correct than ever. Green is good. When projects are being planned, sustainability is a major issue. Grupo Questro, a developer of premium real estate in Los Cabos, Mexico, is a pioneer of the movement and has been an eco-balanced
luxury real estate
developer for more than 27 years. 
Eduardo Sánchez Navarro joined the firm in 2001. He is a member on six boards of prominent real estate developments in Mexico. Recently, JustLuxe reported on various luxury-brand hoteliers that have either announced plans to build or to renovate hotels and resorts in Mexico. Both business and travelers are returning. Mr. Sanchez Navarro is among the key influencers whose efforts have contributed greatly to these significant events.
He spoke to us about his firm's eco-luxury property projects in Los Cabos and the state of tourism of Mexico overall.   
JustLuxe: The real estate projects developed by Grupo Questro are excellent examples of luxury properties planned as ecologically correct as possible. From what I have read, your company has worked toward this direction since its inception in 1985. How did ecological correctness become a key issue for all your projects?
Eduardo Sánchez Navarro:
We are proud to have included as many sustainable components as financially possible in our projects and residential developments. We still have a ways to go to get there, but environmental sustainability is a goal that we are striving for.
JL: Would it be appropriate to define your fully integrated resorts and mixed-use projects as sustainable luxury properties?
ESN:
The truth is that while sustainability is our goal and this is the direction we are moving, there is a lot more to be done before we can truly call our projects sustainable. We are always on the lookout for new technologies to incorporate in our projects that move us in the direction of sustainability and that are economically feasible as well.
JL: Is the planning process for an ecologically principled property development more elaborate?
ESN:
To create truly sustainable luxury properties, environmental impact must be taken into consideration from day one in the planning process. Cost benefit analysis, both short and long term becomes more complicated. Many of the newer, more environmentally sound technologies are quite costly in the short term. Assigning value, defining cost and assessing benefits all become more complicated when you consider the long-term impact on the planet.
JL: Are there any examples that you could cite that distinguish Grupo Questro's efforts in sustainability or establishing eco-systems at Puerto Los Cabos?
ESN:
There are several examples at Puerto Los Cabos that distinguish Grupo Questro's efforts toward sustainability. At the 12-acre Wirikuta Botanical Park we have created one of the largest cacti gardens in the country. The Wirikuta provides a habitat to encourage the conservation of endangered cacti and succulent species from around the world. The Wirikuta has more than 750,000 plants that we have grown directly from seed for use in landscape design throughout Puerto Los Cabos.
ESN:
Aside from the benefit of species preservation, water requirements of cacti are a fraction of what they are for other plants making it a "plant of the future." In landscape design the form and color of the cacti, make it a viable, eco-friendly substitute for more tropical plants. The cacti and succulents from the Wirikuta are used liberally in the landscaping of Puerto Los Cabos common areas, as are indigenous trees that we preserve and transplant. We encourage homeowners at Puerto Los Cabos to incorporate cacti in their landscape design to reduce water usage as well.
Three species of the giant marine sea turtles nest on the shores of Puerto Los Cabos. We participate in programs to preserve these amazing endangered species. We have also fenced the nesting areas for the least tern, a tiny bird that nests in the sand on the beaches and in the dunes at Puerto Los Cabos. In the creation of our golf courses we have tried to incorporate more ecologically sound components. For example, we use paspalum grass. This grass, though more expensive than other options, can be watered in part with seawater. In our constructions, and, in particular, with our new project called Fundadores Golf Villas, there are many sustainable components involved.
JL: When you mention the sustainable components of the new Fundadores Golf Villas, how is that sustainability measured? Could you give us some examples?
ESN:
As this golf-villa property is underway now, several examples do come to my mind. PVC frames double windows are in every room. This provides better insulation so less electricity is required to control temperature. The use of local materials in the construction process, including rock, sand, gravel and locally made bricks, helps reduce carbon dioxide emissions caused by transportation over long distances. We install low energy usage light bulbs throughout our homes. A mixture of cement and polystyrene used on the walls and the roofs also helps insulate and provide the homes with a higher R-value. We also purchase energy efficient home appliances for our homes.
JL: There are currently 70 houses completed and another 50 that are under construction at Puerto Los Cabos. As an investment, are there any advantages to buying a residence that is under construction versus a move-in-now single-family residence?
ESN:
We are trying not to compete against ourselves by developing the same type of product over and over again. We invest in market research and monitor and build according to what the market dictates. Our new homes have thoughtfully designed floor plans that incorporate everything the homeowner needs. One advantage to buying a residence that is under construction as opposed to a turnkey residence is that in some of the projects, the homeowner can put personal touches to customize the home to their own tastes before moving in.
JL: This one is a bit sensitive, by nature. Overall, it appears that the entire country of Mexico has been a real hard sell to travelers and investors due to problems in specific regions and the media reporting on it. That "War on Drugs" is not a boon for tourism or property development. Whether it is perception or reality, and despite the fact that these luxury properties are in regions sans warnings or alerts, how do you overcome that negative impression?
ESN:
This is a sensitive question, but I'm glad you asked it. It is an important question because overcoming this kind of negative media attention with people who are not familiar with Mexico's geography has been a struggle. Most of the violence associated with drugs has been localized in cities at the U.S. border. In Los Cabos we are 1,000 miles away from the border. Most of the foreigners, and even people from other parts of Mexico who have been vacationing in Los Cabos for years realize this and know that this community is one of the safer communities you will find anywhere in the world.
In truth, we are very proud of the fact that Los Cabos just hosted the G20 Leaders Summit. We had heads of State from Mexico, the United States, Canada, China, Turkey, Russia and a host of other countries in town for the event and it all went very smoothly. We would definitely like to see some positive media attention in this regard!
JL: It was recently announced that a new 500-room Secrets-branded resort is opening at Puerto Los Cabos in November 2013. How does that news factor in to the development's overall plan? Would you say that this is an indication of the financial health and ongoing investment of resort/real estate development in Los Cabos?
ESN:
The master plan for Puerto Los Cabos includes several hotel sites. Puerto Los Cabos is designed to be a resort destination that provides every amenity a visitor could possibly imagine. Our first marina-front hotel is currently under construction and is scheduled for completion in this year. Construction for the Secrets Puerto los Cabos is already underway. Both of these hotels indicate financial health and ongoing investment in resort/real estate development in Los Cabos, as does the brand new 6,000-seat Los Cabos Convention Center which was inaugurated in June for the G20 Leader's Summit. Convention groups are already beginning to book the Center and this brings an entirely new class of business tourist to Los Cabos.
JL: Recently, I was asked what sustainable luxury meant to me. It is unfortunate for me that we did not speak first. My response to that question would have been better because of our conversation today. Thank you very much, Eduardo, for chatting with us today.
ESN:
You are most welcome, James. It was my pleasure.
For more information on Grupo Questro, visit