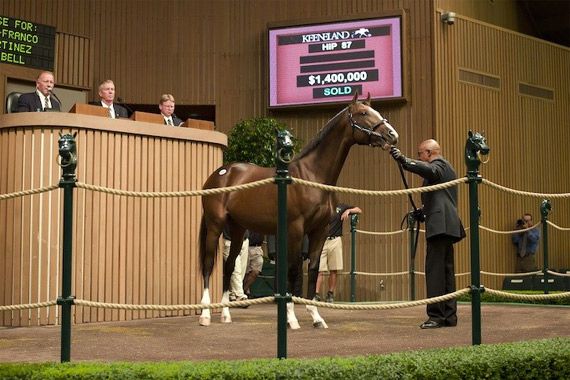 Photo Courtesy of Keeneland
For those who are involved in high end thoroughbred horse racing, Keeneland is a household word. Selling more graded stakes winners than any other sales company, Keeneland is considered the Sotheby's of horse racing. It is the premier marketplace for buying the next Kentucky Derby winner, as all of the top six Derby finishers from this year were sold at Keeneland's 2010 Yearling Sale. This year, the sale begins on September 10, 2012.
Keeneland is in the bluegrass country of Lexington, Kentucky, where the top horses have been bred, raced and sold for over 80 years. The culture here is an unusual combination of tradition and innovation, as their focus is on the health, safety and care of the horse. 
Bill Thomason, who has been with Keeneland as CFO for the past 2 years, on September 1, became the new CEO of Keeneland. We interviewed him recently, asking about the aesthetics, practicality, nature, nurture, and culture of the horse, and why the Yearling Sale is considered a major
luxury event
.
JustLuxe: As you may know, I have written articles on passion investing for JustLuxe. Investing in thoroughbred horses is one dimension of passion investing—that is, investing in a business where the goal is not necessarily an immediate ROI, but for the joy of owning something aesthetically and personally pleasing. What are your thoughts on this idea?
Bill Thomason:
The horse business is indeed an industry, and it is a business that drives a kind of passion. You do not get into it unless you have a passionate connection to the beauty, as well as concern and care for the horse. Actually, if the goal is an immediate ROI, you are in the wrong business. You must find expert breeders who have studied genetics, and the physical histories of both stallion and brood mare. Then if the breeding is successful, it takes 11 months for the mare to gestate and foal.
BT:
Then, it takes another year and a half for the foal to grow into a yearling. And, like with human infants, so many health issues can occur between the first and the twelfth month. Once the horse is a yearling, actually between one and two years old, you are able to intuit what the horse can do in the next few years. All of the top six Kentucky Derby finishers were sold at Keeneland's 2010 Yearling Sale.
JL: The Yearling Sale comes later in the month of September for two weeks. What are the buyers looking for in a yearling? Is it breeding, form, or something else, unexplainable and intuitive?
BT:
This is a substantial event, where the best yearlings—3,600 of them—are auctioned to high end investors and breeders from over 50 countries. It is a two-week event, and about 300 horses per day are sold. Prices ranges approximately from $10,000 to well over a million per horse. We had a tremendous year in 2011, and expect an even better one this year. The buyers look at and inspect the horses for three days prior to the auction, and are looking for the health history of the horse, the breeding lines of the mare and stallion, the perfection of form, things like that. There are both practical and aesthetic considerations when making such a purchase.
JL: Keeneland is one of the few thoroughbred horse racing businesses whose history is nonprofit, and whose subtext is philanthropic. Can you comment on this? Is this giving back idea one that has allowed for Keeneland's greater success?
BT:
Keeneland was originally set up as a non-profit, but it is set up now as a business with a non-for-profit mission. The fiscal interests accrued from Keeneland, goes back into the innovation, for the greater safety and health of the horse. I have always felt this also defines a love of the horse, for our community, and for the culture of Keeneland also.
JL: You started as a CEO on September 1. What kind of different (or similar) mission and vision will you have for Keeneland?
BT:
One of the great joys for me is to continue the mission and vision first clarified by the first President at Keeneland, Hal Price Headley who said, "We want a place where those who love horses can come and picnic with us and thrill to the sport of the Bluegrass. We are not running a race plant to hear the click of the Mutuel machines. We want them to come out here to enjoy God's sunshine, fresh air and to watch horses race." Our mission and vision and even our by-laws have not changed, even though they were created close to 80 years ago.
JL: As I have often written about the deeper meaning of the luxury experience, I use three concepts that seem to inhere in the purchase of and pleasure in owning luxury goods: scarcity, legacy, and worth. Can you explain how the Yearling Sale at Keeneland relates to all three? Let me know your thoughts.
BT:
Our Yearling Sale, as well as the experience of Keeneland itself, defines these three dimensions in so many ways. Out of the millions of horses bred each year, only a small number are at Keeneland, these are the best of the best. And right now, we have fewer foals than we did three years ago, and those from a limited number of mare/stallion breedings. So the scarcity quotient is very real to us. With legacy, I see the Keeneland legacy first—this is the land legacy that has been in the Keene family since 1742.
BT:
For many hundreds of years, it has been a place where great horses, breeders and trainers have lived, and became legends in the industry. You can feel legacy and history here. And worth? Worth is often defined by scarcity and legacy. But there is also something intuitive there. The value of the horse is defined by his or her breeding, but it is also defined by a non-verbal, intuitive connection. You know it when you see it. Look into the eye of the horse, and sometimes you sense a connection. You know the horse wants to win, and he or she will let you know. At the Yearling Sale, we see this connection made all the time. And even though the buyers often pays over a million, seeing the connection between horse and new owner is priceless.
Visit
Keeneland.com
to learn more.