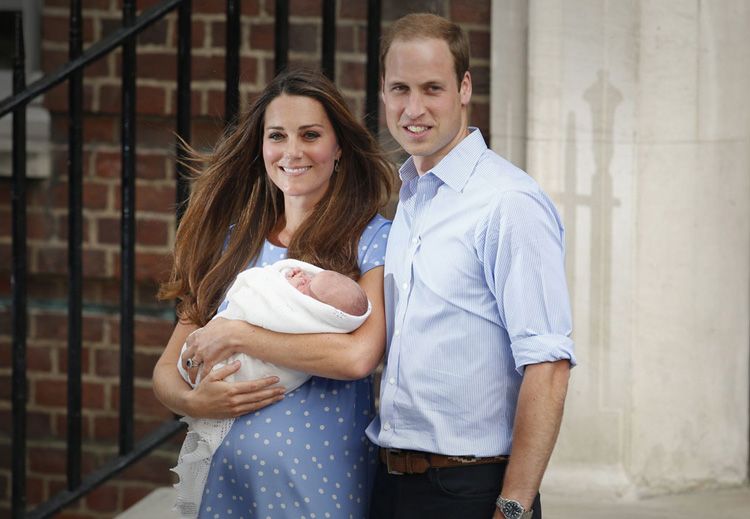 Photo Courtesy of Clarence House
Unless you've quite literally been living in a cave for the past week, you already know all about the birth of
Prince William and Kate Middleton's first son, Prince George
(carrying the weighty title of His Royal Highness Prince George of Cambridge). All of this attention on the royal family got us thinking about our favorite Princesses and what has made them so fascinating to the world. From charity work to a stylish public persona, these are our picks for the real-life princesses who never needed Walt Disney to make them memorable.
Photo Courtesy of Clarence House
Princess Diana
Born The Honorable Diana Spencer in 1961,
Diana, Princess of Wales
is one of the most famous princesses of all time. Her friendly and "every woman" personality served to breach the very large gap between the royal family and the public. During her marriage with Prince Charles, she was either the President or Patron of over 100 charities. She is especially recognized for her work with children, the disabled, homeless, and those with HIV/AIDS — photographs of her interacting and touching those suffering from HIV/AIDS helped shatter many misunderstood beliefs regarding how the disease was contracted. After she got divorced, Princess Diana narrowed her charity involvement to focus on her Patronage of Centrepoint (a homeless charity), English National Ballet, Leprosy Mission and National Aids Trust. A year before her untimely death, she also worked on banning the manufacturing and use of land mines.
Catherine, Duchess of Cambridge
Wife of Prince William and new mother to Prince George, Kate Middleton certainly didn't grow up royalty — her mother was a former flight attendant and her father was flight dispatcher for British Airways — but that didn't stop her from, excuse the cliché, meeting her Prince Charming. Thought of by many as the "new" Princess Diana, Middleton is adored for her personable nature and elegant influence on fashion. She has been listed as "Best Dressed" in numerous publications, from
Vanity Fair
to
People
, and was named one of
"The 100 Most Influential People in the World"
by
TIME
. In 2011, she and Prince William set up a gift fund that allowed anyone wanting to give them wedding gifts to donate money to 26 selected charities instead. Last year it was announced that the Duchess would be supporting charities dedicated to art, children and addiction recovery, and is also a patronage of The Natural History Museum (a station held by Princess Diana).
Photo Courtesy of Wikimedia Commons
Princess Grace of Monaco
Grace Kelly was not only a beloved actress (best known for her starring role in three Alfred Hitchcock films:
Dial M for Murder
,
Rear Window
, and
To Catch a Thief
), she also became the Princess of Monaco after wedding Prince Rainier III in 1956. The marriage, which was hailed "The Wedding of the Century" by the press, meant her retirement from acting at the age of 26 (of which Hitchcock supposedly said, "[I'm] very happy that Grace has found herself such a good part"). In 1963 Kelly founded
AMADE (The World Association of Children's Friends)
, a non-profit organization that focuses on a variety of issues related to protecting and promoting children's human rights — her daughter, Princess Caroline, is the current President. Princess Grace was also very active in supporting the arts in Monaco and formed the Princess Grace Foundation to help local artists.
Letizia, Princess of Asturias
Nowadays Princess Letizia's name is synonymous with scandal, let's not let a
damaging book release
cloud the fact that she's pretty darn cool. Born Letizia Ortiz Rocasolano in 1972, Letizia was a journalist and news anchor long before she ever become a princess — she even reported from Ground Zero following the 9/11 attacks in New York City. It was a surprise to many when, in 2003, her engagement to Prince Felipe, the heir apparent to the Spanish throne, was announced. Since becoming royalty, Letizia has traveled all over the world in support of many social issues, like children rights and education.
Photo Courtesy of Wikimedia Commons
Nefertiti
Nefertiti may be famous for being a Queen, but many historians believe she was actually a
Mitanni princess
prior to her role as wife of the pharaoh Akhenaten. As one of the most powerful female figures in ancient Egypt — and possibly the world — Nefertiti's life is shrouded in mystery, which just makes her all the more fascinating. There are even some theories that after Akhenaten died, Nefertiti actually took over ruling. She was made iconic when a bust in her image was discovered in 1913. The painted sculpture gave the world a glimpse of what she looked like and became a worldwide image of feminine agency and beauty.