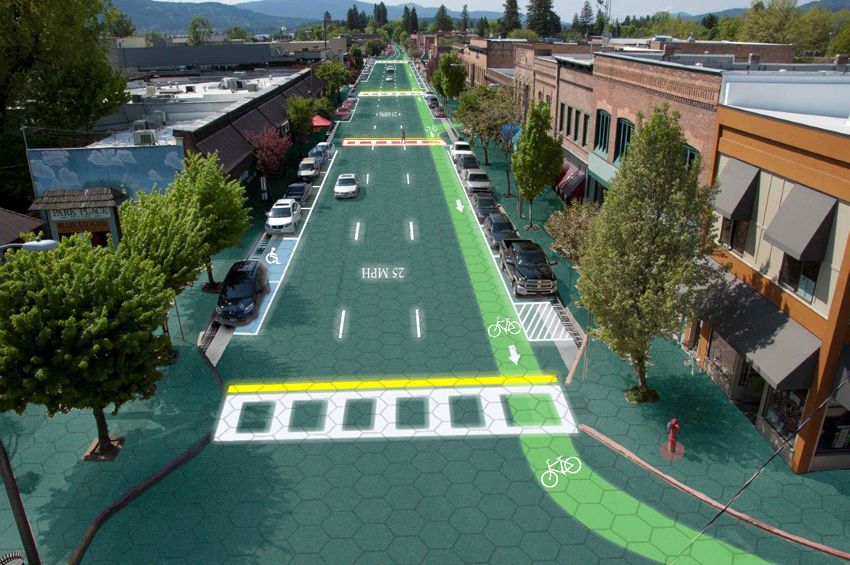 Photos Courtesy of Solar Roadways
Thanks so some major celebrity support, like Nathan Fillion and George Takei (both of whom took to Facebook and Twitter), Solar Roadways has raised enough to meet their Indiegogo goal of $1 million (to date, they've made $1.4 million) and we couldn't be more thrilled. The concept is pretty much perfect and proposes replacing useless asphalt roads and parking lots with solar panels. The panel would generate three times more energy than we actually consume, which would essentially solve all of our problems. While Solar Roadways would take a lot more than just a successful crowd funding campaign to be implemented nationwide, it's a major step in the right direction.
Created by husband and wife team, Scott and Julie Brusaw of Idaho, the project has been in development since the mid-2000s and is actually pretty simple. Solar Roadways wants to cover driving surfaces (and by extension, any surface we walk on) with durable solar panels that have multiple uses and basically turn roads into "smart" tech. The panels can withstand the weight of 250,000-pound trucks and will be able to "pay for themselves" by generating clean renewable energy for homes and businesses.
The panels are packed with features, like a heating element that will make roads safer by keeping them free of snow and ice. LED lights are installed for road lines and can be dimmed or turned off if there aren't any cars on the road. The company envisions "activating the LEDs 1/2 mile ahead and 1/4 mile behind a vehicle. If you were to see the adjacent lane lighting up, then you'd know an oncoming vehicle is 1/2 mile ahead."
Even cooler is that the system will be able to recognize weight so that if a pedestrian or animal steps onto the road, the panels will blink or read "SLOW DOWN" to alert a driver of a possible impact.
Two different types have been designed with the help of civil engineers, one with a semi-smooth walking surface and one with the raised hexagons for highway use. Solar Roadways promises that the glass covering won't be slippery and have been tested with trucks, cars, motorcycles, and bikes. They also assert that preexisting roads wouldn't need to be torn up for the new panels, instead they would be used as a solid foundation.
According to the company, "over $160 billion is lost each year [in the U.S.] in lost productivity from people sitting in traffic due to road maintenance." They promise that their modular system will be super fast and easy to repair, especially when compared to our current asphalt system. "Each of the panels contain their own microprocessor, which communicates wirelessly with surrounding panels. If one of them should become damaged and stop communicating, then the rest of the panels can report the problem." Plus, since each one weighs 110 pounds, one person can make the switch from a broken panel to a good one.
Sure, the campaign's goal isn't nearly enough to fund the project nationwide (that number would be more like $56 trillion, according to Aaron Saenz of SingularityHUB), but it would allow the team hire additional engineers to help make tweaks in the product and streamline the process so they can go from prototype to production. Since they've met their goal, they've asked for resumes on their Facebook page, so if you want to help out and have the necessary schooling, send your skills over. They will begin hiring in June and are currently looking for office space in Sandpoint, Idaho.
The campaign ends on May 31, so if you still want to help them, you can donate and get some perks — like your name on a parking lot for $500 or a seven-inch hexagon for $10,000.