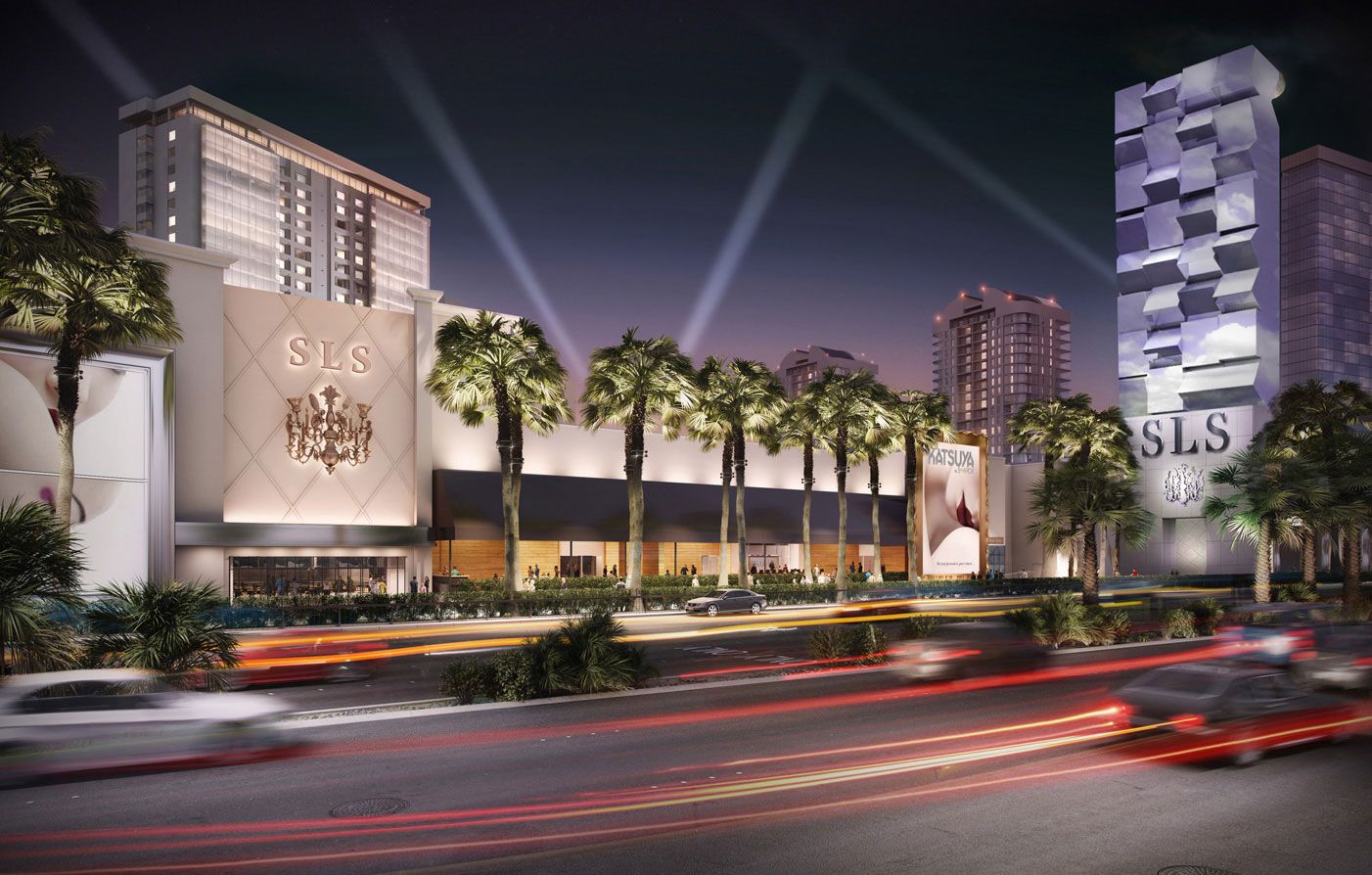 Photo Courtesy of SLS Las Vegas
On June 2, 2014, Hilton Worldwide announced the launch of a new brand, Curio – A Collection by Hilton, with five hotels having signed letters of intent to become part of this new collection. The name Curio defines the vision and intent—something unique, interesting and often rare. Each Hilton Curio collection hotel will be different from the others, with individuality and distinctiveness being the common thread that ties them together. Within that dimension is the hotel's exclusive sense of place reflected throughout its walls as well.
Photo Courtesy of The Sam Houston Hotel
As of this writing, letters of intent have been signed for the following properties: SLS Las Vegas Hotel & Casino; The Sam Houston Hotel in Texas; Hotel Alex Johnson in Rapid City, S.D.; The Franklin Hotel in Chapel Hill, N.C.; and a soon-to-be-named hotel development in downtown Portland, Oregon. Recently, we had a conversation with Dianna Vaughan, Global Head of Curio – A Collection by Hilton. We were interested in how it was created, and what needs would be filled by this new brand.
Photo Courtesy of Hotel Alex Johnson
JustLuxe: What need was not being met by for the traveling public that will be filled by the Curio collection?
Dianna Vaughan: Many travelers seek authentic, local experiences from their destinations and they want that localized experience to transcend all aspects of their trips—from the hotel they stay in, to the food they eat, to the activities they plan. Curio – A Collection by Hilton will offer these passionate travelers a Hilton Worldwide hotel option that not only fosters local discovery, but also importantly, gives them quiet reassurance of quality in knowing that these hotels are backed by a brand they trust. Curio hotels will also participate in our Hilton HHonors loyalty program, tapping into a database of 40 million travelers. These loyal guests travel for a variety reasons—whether for business or leisure—and we want to ensure we are meeting their needs in their most sought-out travel destinations.
Photo Courtesy of The Franklin Hotel
JL: How did the original Curio collection vision evolve?
DV: For the past few years, we've really been focused on expanding our current brands globally and getting that right. Now that we have established ourselves as a company outside of North America, we can really tackle our next long-term goals, one of which is launching this collection brand. The creation of Curio really came about in response to our owners' requests for a Hilton Worldwide option in this independent hotel space.
Through our research, we found that independent hotels account for 34.3 percent of hotels in North America, 60.2 percent in Europe, and 51.7 percent in Asia Pacific. Filtering this to four- and five-star properties in top urban and resort locations results, there is a high percentage of hotels that could fit with a collection-type brand. From our perspective, this new brand will accelerate pipeline growth by allowing Hilton Worldwide to enter new segments within mature markets and offer our owners and guests even more options to doing business with us.
Photo Courtesy of Hotel Alex Johnson
JL: What types of hotels will be part of the Curio collection?
DV: Just as the word "curio" means something of interest or something unique, Curio – A Collection by Hilton focuses on bringing together hotels with distinctive identities that are often a part of the fabric of their destination – whether it's an established, independent hotel in the heart of a city or a newly built, grand hotel in a resort location. Each of these truly unique hotels will be hand-picked for our collection and have special characteristics that are difficult to duplicate.
JL: Can you discuss the benchmarks of authenticity that will define the hotels in the Curio collection, in other words, what will they all have in common?
DV: The common thread among all Curio hotels will be their individuality and passion for enriching travel experiences for guests. Some of our brands are very prescriptive in terms of standards, but the beauty of Curio is that it gives owners an opportunity to keep their hotel's unique identity and authentic localized offerings intact without many restrictions and requirements. There are some basic brand standards in place that we do require in order for each Curio hotel to fit into the four to five star categories, such as fire, life and safety standards, food and beverage service, flat-screen televisions, internet access, guestroom bath amenities, and so on. There will also be subtle touches on property to let the guest know that the hotel is a part of the collection and Hilton Worldwide, such as a discreet plaque near the entrance and Hilton HHonors signage at the front desk. Additional Hilton Worldwide and Curio messaging will be added to each hotel's website to help guide guests during the booking process as well.
Photo Courtesy of SLS Las Vegas
JL: There are five hotels now that will be part of the Curio collection, the first one opening in Las Vegas. Explain a little about why this one will be a Curio collection hotel — what aspects reflect the Curio collection philosophy?
DV: Formerly the iconic Sahara Hotel & Casino, this hotel has been a Las Vegas legend for many years and will now live on as the SLS Las Vegas Hotel & Casino, becoming one of the first hotels to enter our Curio collection. This hotel in many ways embodies the spirit of luxury, sophistication and excitement of Las Vegas, inspiring passion and discovery, which is exactly what Curio is all about. The SLS Las Vegas, located at the north end of The Strip, will offer 1,600 guestrooms and suites, an engaging gaming experience, two expansive pools, and diverse restaurant and nightlife options. These things coupled with its contemporary design—with nods to its Vegas heritage—perfectly fit the Curio philosophy.
Photo Courtesy of The Sam Houston Hotel
JL: In what other areas are you looking for new Curio collection Hotels? Also, will there be Curio collection Resorts in the future? And finally, are you looking for Curio collection hotels internationally, and if so, where?
DV: Curio gives Hilton Worldwide and our owners the opportunity to enter more mature, high barrier to entry markets, like San Francisco for instance. There are very slim prospects when it comes to building in a saturated market like San Francisco, but with Curio, we can partner with existing independent hotels seeking the scale and scope of our Hilton Worldwide sales and distributions engines in order to enter those markets and expand Hilton Worldwide's offerings for our guests, wherever they may decide to travel.
Because Curio already encompasses urban and resort hotels, I don't foresee us adding a specific "resorts" extension to the brand, but rather all types of hotel will fall under the same umbrella brand.
In regard to international growth, we are absolutely looking globally for opportunities that would fit the criteria of a Curio hotel. We'll be adding both established independent hotels and new builds to the portfolio in urban and resort locations. In addition to the five U.S. locations announced during the brand launch, we're already expanding in the Middle East with the recent signing of an agreement to build a 207-guestroom Curio hotel near the Mall of Qatar, anticipated to open in 2016. The hotel's formal name and details will be announced soon, but it promises to be a luxuriously-designed property with many upscale amenities.