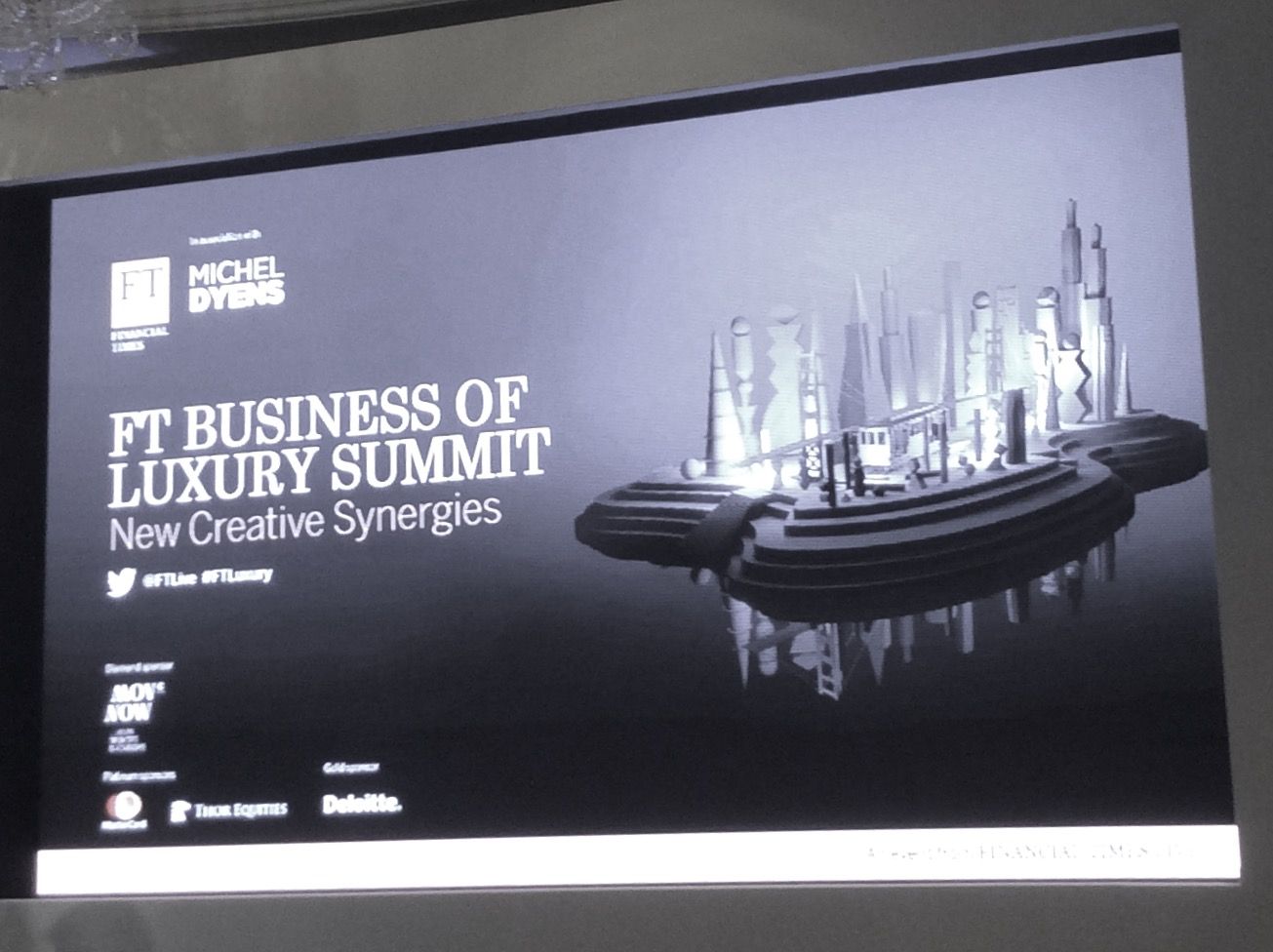 Photo Credit: Susan Kime
Because we have reported on many luxury conferences in the past, our expectations of this one, the Financial Times Business Of Luxury Summit, were in the luxury business-as-usual mode. Yet the theme of this Summit was unique: New Creative Synergies. So we began to think this conference may be different from others, and it certainly was.
If there were two words to describe this meeting of luxury minds, they were cross-pollination, and cross-fertilization—of new ideas, new technology, new product and service provision. These emerging, cutting edge ideas have the propensity to change the face of luxury branding, and product purchasing. Most of the panel members were CEOs, founders, or global heads or presidents in their respective fields, which were diverse. Keynote addresses were given by Frederic Cumenal, CEO of Tiffany & Co, Michael Evans, CEO of AliBaba, Brunello Cucinelli of Brunello Cucinelli, Tony Fadell, Founder and CEO of Nest, and SVP of Google, and Robert Rubin, Co-Chairman On the Council On Foreign Relations and the Former US Treasury Secretary. And these were just a few.
Photo Credit: Susan Kime
Levi's President James Curleigh, the opening day's keynote speaker, began his address by singing Bob Dylan's "The Times They Are A Changin'." This was certainly a metaphor for ideas to come, in regards to industry shifts, social media, and new definitions of luxury. He described his denim company as a 150-year-old startup that now deserves the luxury nomenclature due to its heritage, quality and innovation. He also discussed Levi's as an influencer of lifestyle; and its Santa Clara stadium as a vehicle for 80,000 fans in the stands to spread Levi's branding through social media hashtagging.
Photo Credit: Susan Kime
Developing new, international luxury narratives for today's luxury consumer was the common thread to all of the ideas presented as the Summit progressed. Questions also emerged that were evolutionary and fluid in nature, meaning the answers today will be different from the answers tomorrow.
For example: does the concept of authenticity—a strong pillar in the luxury definition—change in terms of whether a product is handmade or automated thread by thread to be identical to handmade? One suggestion made by Adrian Cheng, CEO of K11, a new brand that works with emerging Chinese artists to combine art with commerce, said that there must be a sense of exclusivity and great story behind for it to be considered luxury.
Photo Credit: Tesla
It was further thought that people don't need more things, they need brands reflective of their personal wishes and hopes, their history and heritage. But such reflection goes further. In a discussion of the new Concept Store, it was thought that the consumer experience must be reflective of the brand, and the digital presence. Apple concept stores were cited as an example, as was Tesla.
Tesla is placing its dealerships in shopping malls, not auto malls: "We use our stores to surprise and delight customers, to draw them in and tell them our story," said Ganesh Srivats, vice president for North America sales. "It's where people ask, 'What is this electric vehicle thing, how does it work, what range can it get me and how does it serve me?' We use malls as a way to draw people into our company and to give them a great educational experience."
Photo Credit: Susan Kime
In many discussions, Millennial chasing emerged as a hot topic. No matter what the brand, it was agreed that the buying experience, including both pre and post purchase must be "sticky"—that is, the experience and engagement with the product must "stick" to them. And for a rare moment, the Millennial idea was broken down in to two: the post '80s millennial searches for some form of social recognition, products that do good, in a philanthropic sense, and do well economically. This contrasts with the post '90's Millennial, who has more of a narcissistic edge, seeing themselves as their own brand.
Photo Credit: Susan Kime
Finally, Robert Rubin, former US Treasury Secretary had a conversation with Martin Wolf, Associate Editor/Economic Commentator of the Financial Times. The subject was the economic outlook—dealing with future prospects of the world economy at a time of profound economic uncertainty. One of the main foci was on the US economy and the upcoming election. It was a sobering talk.
Mr. Rubin said he worried about the slow recovery in our country, and the probability of a recession is NOT zero. He believed Hilary will win, but is not in touch with the American electorate. He remembered a stat that said two out of three Americans felt the country was on the wrong track—there is a disenchantment that is palpable. Then with Trump, Rubin said, "…he speaks to what people feel." Trump, he said later is terra incognita.
When asked about how he sees the future, he said it was with wary optimism. He was not Chicken Little but we have massive economic uncertainties, and, again in an evolutionary turn of phrase, he will see what happens, like the rest of us.
Photo Credit: Susan Kime
Another idea dealt with the meaning and the growing importance of the Outlet store, with the question being—does the Outlet store enhance or dilute brand recognition? Many felt that brand introduction can often begin at an Outlet store, many others felt that this introduction minimized the relevance of the brand. It was one of those questions whose answer changed with time, an evolutionary puzzle to be discussed again in future Summits.
As can be seen, many subjects were discussed and many questions were brought forth that might well be clarified in the next Summit. We look forward to more revelations, as we travel through this unique luxury evolution.