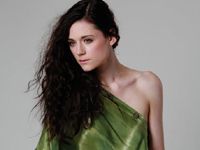 News & Trends:
Let me introduce myself. I am Elena Garcia, a fashion designer based in London who specializes in sustainable clothing and accessories for the high end market. I am also a marketing and PR consultant. I like getting involved in ecological design projects for companies and charities.
My eponymous label is still very young but I have done years of research and have gained invaluable insight into the luxury apparel industry over the years.
I have a background in fashion design and textile processes, and this is why I ended up creating luxury products. The more I learned about textiles the more I appreciated the value of craft, details and finishes.
I am not an eco-warrior and I don't go around preaching to people about sustainability. I believe in trade, not aid, and I would like to give a sense of dignity, respect and appreciation to the people who make my products.
We live in the era of communications. We now have more access to information than ever before. It is because we know so much about everything that I realized I could not make my products going down the same path of "profit only" principles that is the norm these days. Because I know that in a few years' time we will all have to pay green taxes and waste penalties I source my fabrics from a sustainable supplier, with no harmful chemicals. Because I know as a businesswoman that we have to nurture the relationship with our manufacturers and keep the workers happy, I pay fair wages, to ensure that my garments are made to high quality standards. Because I know that we have to support our local communities I train local people to finish my garments and keep the sampling and small production as local as possible.
These practices make me a sustainable business owner and my label has been categorized as "eco" and "ethical." I believe that besides the eco-labeling of my business, the care I put into every stage of the creation of my clothes makes me a luxury designer. The people who buy my pieces understand about the relevance of transparency in the supply chain and are prepared to pay for it. I use luxury fabrics and processes with design to match. Should sustainability be a new type of luxury in an age when mass production is "de rigeur" in order to make a living?
I have been having this debate over the last few months with my friend Suzy Menkes from the International Herald Tribune. She suggested the implementation of a new type of rating for the fashion and apparel industry, like luxury foods and wines industries have. This would encourage luxury providers to inform their customers of the processes behind their products. Luxury buyers are real connoisseurs anyway and welcome this type of information. There is a growing demand for this type of development and these days everyone wants to make informed choices.
I would like to take this opportunity to appeal to the fashion and apparel luxury industry for the implementation of a regulatory system (star rating would work) so that clients are informed of the provenance of luxury products, as well as the skill and craft involved in the making. Other factors to be considered would be environmental impact and workers conditions. Let's make the luxury goods industry the leader so that the rest can follow.
Elena Garcia
JustLuxe
Contributor
Spring Summer 2009
Spring Summer 2009
Spring Summer 2009
Autumn Winter 2009
Autumn Winter 2009
Autumn Winter 2009
Autumn Winter 2009
Autumn Winter 2009
Autumn Winter 2008
Autumn Winter 2008
Autumn Winter 2008
Autumn Winter 2008
Autumn Winter 2008
Autumn Winter 2008