By Amy Covington
Level 6 white water rafting. Check. Hang-gliding over the Himalayas. Yawn. Zip lining through the rainforest. So last year.
Traditional vacations don't do it for you. If there isn't a small chance you could lose a limb, you're just not interested. You've tried almost everything and want something that will really get your blood flowing. Ilana Stein of Wilderness Safaris, a company specializing in privately hosted safaris and memorable wildlife experiences in the most remote and pristine areas in southern Africa, thinks she has the perfect vacation for adrenaline junkies - a real African Safari.
Two Different Animals
You might think you could visit a wilderness park and get the same experience as you would on a safari - and you want excitement, not boring photo-ops with zebras. According to Stein, the two have very few similarities.
"A real, wilderness safari experience is not bound by two days or even three weeks," Stein said. "On our safaris, the wilderness experience is combined with the comfort of a five-star hotel to create a unique encounter with the rapidly disappearing wild places of our planet. Imagine lying at night in the snug safety of your bed, hearing the calls of the wild and feeling the pulse of Africa just outside. Imagine being able to choose between your en-suite shower inside and your bathtub outside, with the bright African sun or the twinkling Southern Cross shining down on you."
When you visit a wilderness park you're carted around in a van, bus or Jeep along with other visitors. Usually the conditions are hot and uncomfortable. You're there for a few hours, possibly a day, and then the park closes and you drive back to civilization. When you take a real safari vacation, you're in the middle of the action for your entire trip. Wilderness Safaris camps are designed to fit in with their surroundings, so you don't feel like an awkward tourist invading something sacred.
"Our camps are designed to blend in completely with the surrounding environment and individual location. Most camps are built from natural materials, not bricks and tiles and are small - three rooms in the smallest camp and the largest just 12. Such modest-sized camps mean that we minimize impact on the area as well as provide superb, personal service."
All Wilderness Safaris camp sites are situated in unspoiled, private areas - so that means public parks are generally out of the question, so you won't drive down the road and find a Denny's or Wal-Mart. "This ensures your experience is a private one. Currently the custodian of over two million acres of pristine wildlife and wilderness areas in southern Africa, Wilderness Safaris actually owns very little of this land. Most of these reserves are either 'safari concessions' or private reserves that are leased from communities or governments on medium-term leases with strict environmental guidelines."
Creepy, Crawlies ?
Okay, so you buy into the fact that wilderness parks and wilderness safaris are different, but how does taking a safari differ from other adventure travel? "'Adventure travel' is defined by different types of activities of differing levels of excitement," Stein explained. "Wilderness Safaris, as an ecotourism company, combines activities that are connected to the natural world with a 'bigger picture' of the area visited and a sense of responsibility to the world's wilderness areas, their wildlife and people."
When it comes to vacations, you are all about getting your heart racing and, of course, coming home with exciting stories. But one thing you're not too fond of is getting too grungy - I mean, you climbed Mount Kilimanjaro but made sure to pack your Eureka 5 Season EXO and a generous supply of Purell hand sanitizer. You're not about to come home with bragging rights and a nasty bacterial infection. Fortunately, Wilderness Safaris has combined the best parts of "roughing it" with luxury travel.
"Our camps and services are safe, hygienic, authentic and thoughtful of guests needs," said Stein. "To ensure that our guests are absolutely satisfied and thrilled, we host them in the best possible and most remote wilderness and wildlife settings in small, intimate, comfortable camps and lodges. The globally caring traveller will appreciate our attempts at keeping our ecological footprint light and will appreciate being able to share some of the most beautiful wild places in southern Africa."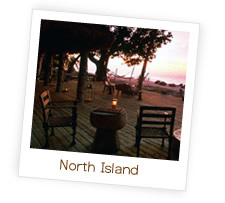 What to Know before You Go
Before you buy your ticket and head to the airport, Stein recommends a few tips to prepare for your wilderness vacation.
"The first rule of a safari is that you never know what you're going to see," Stein said. "So be prepared for anything and expect the unexpected!"
Packing List
Aside from visas, tickets, passports, money and a great sense of adventure, Stein recommends the following list.
Good quality sunglasses - preferably polarized. Tinted fashion glasses are not good in strong light.
Sun hat
Good walking shoes (running/tennis shoes are fine)
Warm Anorak or Parka and scarf / gloves for the cold winter months (May to September)
Light rain gear for summer months (late November to April)
Camera equipment and plenty of film
Binoculars
Malaria tablets (if applicable)
Insect repellent e.g. Tabard, Rid, Jungle Juice, etc
Waterproof/dustproof bags/cover for your cameras.
Is a Safari for You?
Basically it depends on your personal preference. "Not everyone likes being in wide-open spaces, surrounded by nature in its fullest abundance," said Stein. "Not everyone likes quad biking through deserts, snorkeling with dolphins, driving on open Land Rovers through the bushveld or drifting on a mokoro (dug out canoe) through a channel in the Okavango Delta. For some people this is a once-in-a-lifetime experience, for others, it's something they need to do every year, to reconnect with the unspoilt, pristine places of the world."
The best part of this is that you'll see things you've never seen, do things you've never done, and appreciate the natural world as you never imagined you could.
Visit Wilderness Safaris for more information.