By Kellie K. Speed Nov. 17th, 2010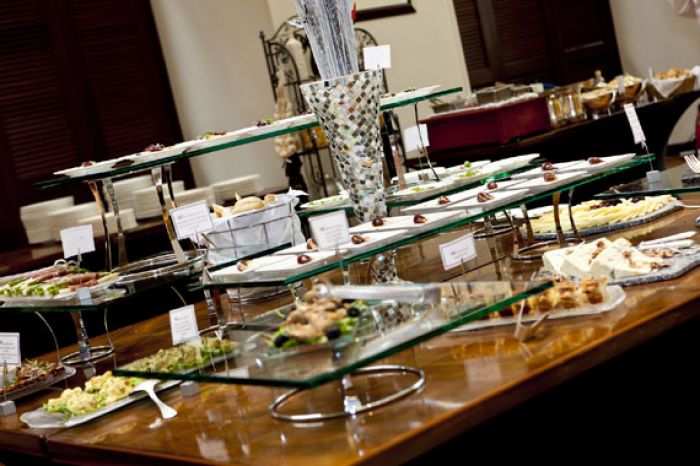 Boston Restaurants:
Picture an entire room practically overflowing with fabulous food, live music and fun for the entire family and you can immediately envision the Sunday City Brunch held each week at Café Fleuri. Located on the second floor of the
Langham Hotel
in Boston's Financial District, the brunch is held in Café Fleuri, the same location where the infamous Chocolate Bar is presented each Saturday afternoon. When you first arrive here, your eyes will immediately light up at the massive spread of food.
Start off with a visit to the breakfast stations, which include eggs Benedict, crepes, scrambled eggs, bacon, sausage and freshly made waffles. From there, you can move along to the adjacent table filled with yogurt parfaits and granola, cinnamon rolls, French breads, and bagels with a variety of cream cheeses.
Diners here love the bloody mary and mimosa bar where you can sip on a flavorful concoction while listing to the pianist playing classical background music. On a recent Sunday morning, the sunlit atrium was filled to near capacity with families and friends gathering for a relaxing meal. The elaborate brunch prepared by Executive Chef Mark Sapienza, has taken the flavors of New England and complemented them with the traditional brunch staples to offer a buffet unlike any other in the city.


There are so many stations and buffet items here that even the most discernible diner will be satiated. Breakfast enthusiasts will love the fresh hot beignets rolled in sugar that were individually delivered to each table. Local artisan foodies can head over to sample some of the artisanal cheeses from Vermont, meats and fresh salads. The deviled eggs were particularly good but the house made mozzarella and vine ripe tomatoes drizzled with oil was admittedly addicting. Seafood lovers can get their fill of fresh sushi rolls, shrimp cocktail and oysters but don't miss a stop by the carving station for a juicy thick cut slice of prime rib topped with creamy horseradish sauce. As if that wasn't enough, there is also a made to order pasta station with chicken, mushrooms and sundried tomatoes available to be tossed in a lobster cream, parmesan cheese, tomato or pesto sauce.

When it came time for dessert, Yaffe hand selects items from the famous chocolate bar (held Saturdays) to put on display here. The impressive chocolate fountain was surrounded by pretzels, marshmallows and cookies for dipping. From ice cream, brownies, cookies and cannolis to chocolate bread pudding, croissants and caramel tartlettes, you simply won't believe your eyes.



The Langham City Brunch is available at Café Fleuri on Sundays from 11 a.m. to 3 p.m. for $48 per person (children ages five through 12 are $25 each and kids four and under are free. The Langham Hotel is located at 250 Franklin Street, Boston. For reservations or more information, call (617) 451-1900.
Kellie K. Speed
As the Boston city guide editor for JustLuxe, Kellie Speed is a native Bostonian and a freelance writer/editor/copywriter with more than 20 years expe...(Read More)